News story
Dounreay granted planning permission for shaft and silo work
The world's deepest nuclear clean-up job has been given the green light by the planning authorities.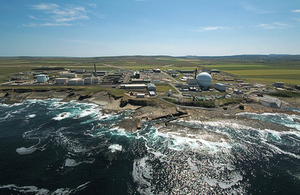 A processing agreement has been made between the Highland Council and Dounreay, with planning permission in principle granted to Dounreay for the construction of plants to remotely retrieve, package and store the intermediate level waste from the shaft and silo.
The site's intermediate level waste was disposed in the shaft until 1977, and in the silo until 1998.
Bo Wier, Shaft & Silo Director, said:
A lot of people have contributed to us getting the planning permission, and I would like to thank them for their work.

This means that we can get on with infrastructure activity in preparation for the construction of the buildings that we need to empty the shaft and silo and package the waste so that it can be stored in the ILW waste store safely, securely and in an environmentally responsible way.
The planning permission also allows for the first phase of demolition of redundant buildings at the site, including the first reactor to be built, the Dounreay Materials Test Reactor. The reactor's surrounding complex of buildings is scheduled for demolition early in 2014.
Published 5 June 2013