News story
Dounreay gets the NaK
The destruction of one of the highest hazards remaining in the Nuclear Decommissioning Authority (NDA) estate has been completed at Dounreay.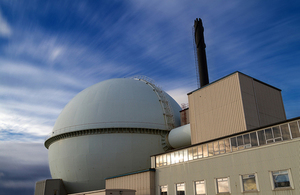 Around 68 tonnes of highly radioactive liquid metal coolant was removed from the Dounreay Fast Reactor (DFR) and safely destroyed over a ten year period. The liquid metal, a blend of sodium and potassium called NaK, was used to remove heat from the reactor's nuclear fuel.
Dounreay used a specially built plant and removal system to safely convert the NaK to hydrogen gas and salt water. Handling the material is a particularly complex technical challenge as it reacts vigorously when exposed to air or water, eventually catching fire. This meant that it had to be kept under a nitrogen gas blanket to prevent reactions.
Reactors Director, Ken Heider, said: "The Dounreay team, in partnership with our supply chain, worked extremely hard over a long time to remove and convert the highly radioactive NaK into safe products. Most importantly, our highly skilled team delivered the work safely and in compliance with our environmental authorisations.
Pete Lutwyche, NDA Chief Operating Officer, added: "This was one of the highest radiological hazards in the NDA estate, as well as a significant conventional safety hazard.
"The difficulty of this task can't be understated, and I welcome the news that this work is complete. Everyone involved should be proud of their achievement."
The bulk removal of NaK was completed in 2012 and, since then, work has been underway to remove the last of the coolant from the pipework and base of the structure. This final stage was extremely challenging because the hazardous material was difficult to access.
Detailed technical solutions, including remotely drilling through parts of the reactor, had to be developed. The team also had to work with outdated original drawings which, as the reactor had been modified over several decades, did not give a full reflection of the plant they were working with.
It is the latest achievement at Dounreay as work progresses on one of Europe's most complex closure programmes. Focus now turns to the removal of around 1,000 breeder elements still in the DFR reactor vessel. This must be completed before cleaning and removing the reactor and its nine kilometres of cooling pipework.
Published 5 August 2016