News story
Dounreay event highlights opportunities for supply chain
Small and medium sized companies are being encouraged to bid for work opportunities at Dounreay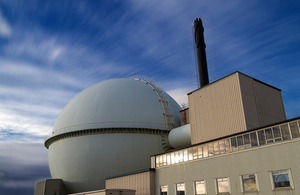 Site operator DSRL held a supply chain briefing event on February 12 to give an update on site operations over the past 12 months and to highlight future procurement opportunities at Dounreay.
With over 130 attendees from across the country, including existing supply chain members and those who were new to nuclear decommissioning, the event was fully subscribed.
The event featured a series of presentations from DSRL senior managers and the NDA's head of programme for Dounreay.
It also provided an opportunity for an informal networking session with commercial representatives and other attendees.
DSRL head of commercial services Kenneth Linn briefed the supply chain.
"We are implementing some key methods and initiatives in order to have a robust and competitive supply chain with the necessary skills, capability and capacity to support the decommissioning of the Dounreay nuclear licensed site to an agreed Interim End State," he explained.
"One of our key aims is to improve visibility and access to opportunities for all the supply chain, and particularly for small and medium-sized enterprises.
"The feedback so far has been extremely positive and we will be taking account of all comments received to ensure that future events meet the needs of businesses at all levels of the supply chain."
Published 20 February 2014