News story
Dounreay cuts electricity use by 3 per cent
Dounreay reduced its electricity consumption by almost three per cent last year but still used up enough energy during its decommissioning to supply a small town of 8000 people.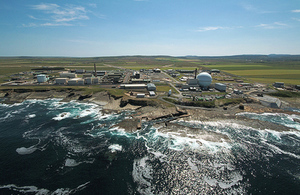 This is one of the findings of a new bi-annual environment report published today by Dounreay Site Restoration Ltd, the contractor closing down the site on behalf of the Nuclear Decommissioning Authority.
The 135-acre site housed three nuclear reactors, nuclear reprocessing plants and numerous laboratories and waste facilities, all of which are now being cleaned out and dismantled.
The baseload of electricity needed to support this work is approximately 4.5 megawatts.
Consumption in 2011 reduced by almost a million kWh, or 2.9 per cent, to 31.375 million kWh.
Of the £150 million spent each year by NDA on closing down Dounreay, approximately £3 million goes towards paying the electricity bill.
"This figure is equivalent of the energy needs of a town the size of Thurso," says the report.
"As the site moves forward with facility decommissioning, a wide range of plant and equipment will be taken off line and out of service, and this will have a direct effect on energy consumption."
Doug Graham, environment team leader at DSRL, said the reduction was down to changing the behaviour of staff, greater controls on electricity use and the installation of more energy-efficient plant.
The report also covers operational discharges and disposals – both radioactive and non-radioactive – environmental monitoring results, particle clean-up and heritage.
In November, DSRL emerged as one of only three companies in the UK to receive the country's highest awards for both safety and environmental standards from the British Safety Council.
Published 19 April 2012