Dounreay contractor's innovation awarded
A contractor working on the Shaft & Silo project has been recognised by the prestigious NDA estate Supply Chain Awards.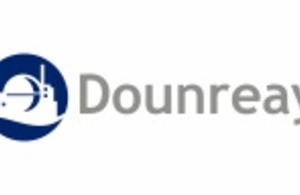 Oxford Technologies Ltd (OTL) won the Minister's Award for their innovative idea to clean out the shaft stub tunnel.
Dounreay Site Restoration Ltd challenged OTL to get creative and look to other industries for an economical way to clean out the 19m long stub tunnel that connects at right angles to the shaft and is sealed at the other end with a concrete plug.
Oxford Technologies' solution was to use an ultra-high-pressure water jet, remotely operated from the shaft intervention platform.
The source of inspiration for this solution was riot control.
The jet of water was designed to be powerful enough to reach the far end of the stub tunnel and then to wash the sludge-like materials back along the tunnel and into the shaft for removal by conventional means.
To provide evidence to support their proposal OTL undertook a full-scale trial at its test facility in Oxfordshire. The trials were successful and have resulted in an anticipated saving of over £600k from the project's capital budget, as well as the potential to reduce the operational costs and timescales.
Published 25 November 2015