News story
Dounreay contractor wins prestigious new award
Profile Security Services has won a prestigious Nuclear Decommissioning Authority (NDA) supply chain award for its work at Dounreay.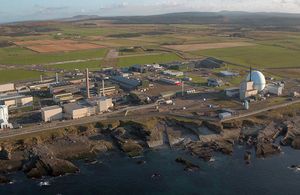 The company is the first recipient of the Enhancing Capability and Capacity award, which was presented to reflect the innovation and delivery of a unique return to work scheme, where Profile worked in partnership with Dounreay and Wick Job Centre Plus.
The scheme creates job opportunities, with training and work experience for those who are struggling to enter or return to the workplace. To date it has created opportunities for 8 previously unemployed individuals who are now in full time employment with Profile.
John Davies, Profile National Infrastructure Director, said:
We are extremely proud to receive this award which is testament to the hard work, professionalism and compassion of the Profile team at Dounreay who, having been given the right tools, made this scheme the success that it is. It also emphasises the importance of working in partnership; it demonstrates the strong relationships we have developed with Dounreay and with the local community.
Profile manages the Civilian Guard Force, which has provided a security function at Dounreay for over 2 years. More than 1,500 people attended the sixth NDA awards, held as part of its annual supply chain event in Manchester, which recognises the vital contribution that suppliers make to the UK's nuclear clean-up mission.
Published 11 November 2016