Dounreay celebrates apprentices diamond year
This year Dounreay's apprentices are the sixtieth batch in a long line of young people joining the site's highly respected apprenticeship scheme since 1955.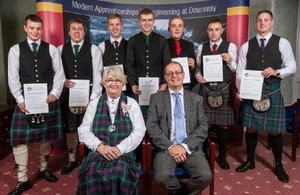 With all crafts benefiting across four disciplines of mechanical, instrument, electrical and design, Dounreay is one of the few companies who have taken on apprentices without a break for 60 years.
Managing Director, Mark Rouse hosted a lunch with members of his executive team to personally welcome the new apprentices and encouraged them to make the most of the opportunity. Mark also stressed the importance of safety and asked the new recruits to continue to question why things were being done and was it the safest way.
DSRL's Training and Development Manager, Jillian Bundy, said:
We are very pleased to be in a position to continue with our apprenticeship scheme and as the site's programme of work extends we need trained and experienced workers to decommission the site. We are extremely proud of our sixty year history of apprenticeships, which supports our aim to become the benchmark in Europe for successful decommissioning of a complex nuclear site.
Phil Craig, Dounreay's Managing Director designate, was also on hand to welcome the new apprentices, and said:
This is how I started my career and you have a great opportunity ahead of you. You need to work very hard and we will support you all the way during what will be a very diverse experience, making you more marketable in the nuclear industry worldwide. You will only get out of this what you are willing to put in, and we will help you to achieve all that you can with us.
Also talking to the apprentices, DSRL's Project Director of Waste, Bruce Covert said:
We remain committed to the apprenticeship scheme because it is the life blood of the company. As your life evolves we will support you and guide you to make the most of the opportunities you are presented with and help you to support each other in your day to day lives as you start off in your new careers.
Well over a thousand people have served their time as apprentices at Dounreay and many are now located across the world using the skills and knowledge they have acquired here.
Published 10 September 2015