Dounreay camera innovation wins NDA award
The Nuclear Decommissioning Authority recognised the role played by a Wick-based manufacturer at Dounreay in its national awards for the UK supply chain.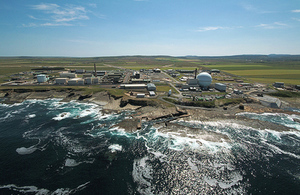 Kongsberg Maritime Ltd supplied a camera capable of working in the harsh radiation environment inside the Dounreay Fast Reactor.
The camera enabled engineers to see for the first time the conditions they will face during the next phase of reactor decommissioning – the removal of the remaining breeder elements – and greatly reduced the risk of costly modifications to the project at a later date.
Kongsberg, whose cameras are best known for their work in the offshore oil and gas industry, won the small business category for "best application of an innovative solution with tangible savings/benefits" in the annual NDA supply chain awards.
The nitrogen-cooled camera developed by Kongsberg needed to be robust to operate in the extreme temperature and high levels of radiation inside the reactor vessel.
Its design should enable the camera to be decontaminated and re-used in other areas where conditions are too hazardous for workers to enter.
Ron Gorham, chair of the judging panel and the NDA's head of supply chain, said: > Kongsberg and the other winners "demonstrated a creative ability to innovate, as well as to draw in and adapt technologies from outside the nuclear industry, while also working collaboratively and showing an absolute determination to overcome problems and difficulties.
Specially developed KONGSBERG camera receives innovation award from the UK Nuclear Decommissioning Authority – Kongsberg
Published 3 December 2013