News story
Dounreay business opportunities outlined at nuclear supply chain event
Dounreay's Head of Procurement, Ken Linn will be presenting the site's supplier requirements at a Nuclear Supply Chain event today in Dunblane.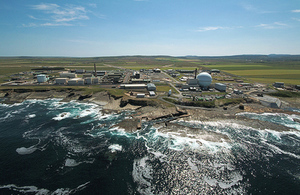 The event is part of the Nuclear Supply Chain project which aims to assist Scottish companies to move into the nuclear business with a view to winning new contracts at home and abroad.
The project provides a range of technical and business support services, workshops and events to Scottish companies who are in, or have the potential to enter the nuclear supply chain.
The three year programme is funded by Scottish Enterprise and Highlands and Islands Enterprise, and is managed by TWI and delivered in partnership with National Nuclear Laboratory, Optimat Ltd and Silver Stream Business Services.
Speaking at the event, Ken Linn outlined the commercial opportunities for the Dounreay site including the work carried out to identify how small and medium sized businesses can contribute socio economic benefits to the area, such as providing traineeships or apprentice places and how socio economic benefit can be built into the contract to assist the local community.
The Nuclear Decommissioning Authority (NDA) is keen to encourage its sites to ensure that small businesses have the opportunity to bid for work and be successful. Anna MacConnell, NDA stakeholder relations and socio economics manager said "Across the NDA estate we encourage the sites to look at innovative ways of involving the smaller businesses
"Small companies become even more important in a community like ours where we need as much as possible of the profits from decommissioning to stay in the area. This is why we have encouraged DSRL to put more focus on helping small businesses get a bigger share of the work. Primarily, through the Caithness Chamber of Commerce, the DSRL commercial team are finding ways of making local companies aware of the opportunities that exist which in turn helps our community."
Head of Procurement, Ken Linn said
The event was very well attended and it is pleasing to see there are a number of companies looking to break into the nuclear decommissioning arena.

Events like these help to communicate the site's procurement requirements and ensures we can have a robust competitive review before awarding contracts.

Socio Economics is an important part of our work and we are keen to make sure that we can maximise local benefits within the boundaries of the contracting legislation.
Dounreay has placed £9M worth of business with 98 local small and medium-sized companies in the last financial year.
Published 11 June 2015