Dounreay begins returning material to national fuel stocks
Nuclear material left over from Dounreay's research work in the 20th century is being returned to national fuel stocks as part of the site's clean-up and closure.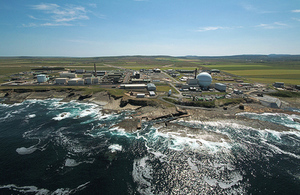 The first of approximately 90 packages of fast reactor 'breeder' material has been delivered safely to Sellafield.
The material – rods made from natural uranium that were irradiated inside the reactor to breed new plutonium fuel for power stations – belongs to the Nuclear Decommissioning Authority. DRS, the specialist rail business owned by the NDA, is carrying out the transport.
The NDA decided to move the material to Sellafield following consultation on its strategy for managing the UK's inventory of nuclear materials. Sellafield has facilities to recover the fuel for its possible re-use in power stations. The return of the breeder material to national stocks follows the removal of foreign fuel from Dounreay over the last decade.
Alex Anderson, deputy project director for fuels and waste at site contractor DSRL, said:
We have worked closely with Sellafield Sites Ltd, DRS and Magnox, which owns the containers, to implement the NDA's decision.
Our priority throughout has been to move this material in a way that protects the public and the environment from harm at all times. We have worked closely with regulators to ensure compliance with stringent national and international safety standards governing the transport of radioactive material.
The breeder amounts to almost half the inventory of nuclear material at Dounreay inherited by the NDA. A decision about the remainder is due early in 2013.
Published 17 December 2012