Dounreay apprentices: You're hired
2016 intake of Dounreay apprentices.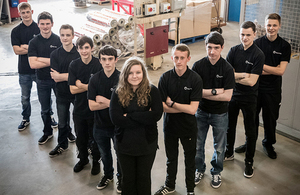 Dounreay has said "you're hired" to ten local newcomers who have started their careers at Dounreay this week. This makes it the 61st consecutive year that apprentices have joined the site.
The four-year apprenticeship scheme allows the successful applicants to gain on the job experience and training, whilst studying part-time through the University of the Highlands and Islands in Thurso, to gain higher national certificates and diplomas. This year, there are two mechanical apprentices, three instrument apprentices, two electrical apprentices and two design apprentices.
Apprentice, Adam Gunn, said: "I am the third generation of my family to work on site and am excited to contribute to the decommissioning work at the site, now and in the future."
Fellow apprentice, Connor Cormack, added: "I can't wait to start learning practical skills and theory after visiting our workshops for the first time this week."
David Lowe, Deputy Managing Director, said: "Investing in new skills is important for Dounreay and for the local community. Having recently taken on ten graduates, we are delighted to welcome our ten local apprentices, who will play a fundamental part in decommissioning the site."
Well over 1,000 people have served their time as apprentices at Dounreay since the scheme began in 1955, with many now located across the world using the skills and knowledge they have learned at the site.
Published 9 September 2016