Dounreay apprentices celebrate completion of training scheme
Seven Dounreay apprentices have received their indenture certificates at a special event to mark the successful conclusion of their 4-year training programme.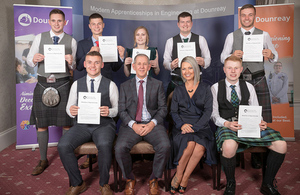 The latest group 'graduating' joined the company in 2015 – the 60th year apprentices had been part of the workforce at Dounreay and the first time in more than a decade that design office apprentices had been recruited.
Dounreay Apprentice Manager Carol Robertson said:
We are incredibly proud of our apprentice programme and I am delighted that all those completing their training this year will be staying on to help deliver our hazard reduction programme. The very nature of decommissioning means that the site will ultimately close, but this scheme has ensured they have skills for life with trades that are in demand. They are now in an ideal position to start building the career that they want.
The apprentices, covering a range of engineering trades, have completed a 4-year structured training programme, including an initial year at North Highland College in Thurso before moving to the site to get hands-on experience.
Guest speaker at the celebratory event was local Member of the Scottish Parliament, Gail Ross MSP:
It was fantastic to speak at the graduation event for Dounreay apprentices. They are a hardworking, committed and fun group of young people that are an asset, not just to their workplace, but to Caithness and we are lucky to have them.
Another 8 local engineering apprentices are set to start their 4-year training programme next month. The organisation also has business administration and carpentry and joinery apprenticeship programmes running this year.
Published 29 August 2019