Dounreay apprentice is voted best in Scotland
Dounreay's Erin Thomson won Scottish Nuclear Apprentice of the Year at a night of glitz and glamour in Manchester last week.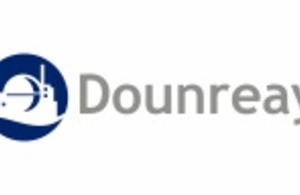 At the annual National Skills Academy for Nuclear awards ceremony, Erin was presented with the coveted trophy for 2014, beating off stiff competition from Torness and Hunterston.
Erin was the first female engineering craft apprentice appointed at Dounreay for over 10 years and has gone on to shine as the first-ever Dounreay winner of a Skills Academy award.
Erin has completed an Instrument Craft Apprenticeship, and currently works as part of the site's instrument decommissioning maintenance team carrying out maintenance and project work across the site.
Erin is a keen STEM Ambassador who takes a lead on sessions with children in local schools working towards their CREST Star Awards. She has recently commenced a degree course at North Highland College in Thurso and hopes to move on to an engineering role in the future.
Apprentice training manager Jim Swan, said:
I am delighted that Erin's self-motivation and ability has been recognised. Her drive and commitment makes her stand out from the crowd and she is a very good example of where the Modern Apprenticeship Scheme can take a young person.
Describing her award, Erin explained:
I am delighted to have won this award, I never imagined an apprenticeship could bring this sort of recognition. I think it highlights the efforts by everyone involved in training apprentices at Dounreay, from the apprentice training team right down to the skilled tradespeople who see apprentices through their four years and SVQ's. I am especially grateful for the opportunity to continue my studies post-apprenticeship and hope to continue to progress as a tradesperson.
At the apprentice indenture ceremony last year, where Erin was awarded the Directors Trophy for Best Overall Apprentice, Dounreay's managing director, Mark Rouse, encouraged the newly qualified youngsters to use their "top drawer" skills to get involved with the work left at Dounreay. He said:
There is 10 years of guaranteed work at Dounreay that you can take real pride in being a part of. We remain committed to the apprenticeship scheme because it is the life-blood of the company and what Erin has achieved is a credit to her, she is a very worthy winner and everyone at Dounreay is extremely proud of her, as am I.
The latest apprentices to be taken on by Dounreay will start their first year of training at the North Highland College in September.
Published 27 March 2014