Dounreay announces new managing director designate
DSRL have announced the new managing director designate, Phil Craig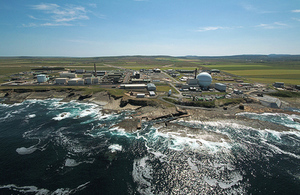 With more than 20 years' experience in the nuclear industry, Phil's career has focused on supporting the UK nuclear decommissioning, defence and existing power generation sectors.
He joined Babcock International Group in 2010 and is currently the Cavendish Nuclear EDF Business Director.
Phil is also the current chair of the UK Projects senior health, safety, security and environment committee and a full time member of the Nuclear Assurance Committee for the wider Cavendish Nuclear business.
He is proud to be joining the Dounreay team and is looking forward to leading the site as it continues to deliver the closure contract on behalf of the Nuclear Decommissioning Authority, and to fulfil its aim to become Europe's leading centre of nuclear decommissioning excellence.
Phil will take over from current managing director, Mark Rouse, at the end of September.
Published 28 July 2015