Dounreay ambassadors inspire students
Three Science Technology Engineering and Maths (STEM) ambassadors from Dounreay have been inspiring youngsters at a local primary school.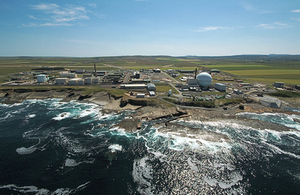 The Technical directorate encouraged Andrew Dunnett, Greg McEwan and Susan Bunch to become involved with STEM.
Local STEM coordinator Pat Keiran explained what being an ambassador entailed. They decided to join the scheme, enthusiastic about being able to give something back to youngsters in the community.
They worked together to carry out the experiments with the primary one class at Pultneytown Academy, delivering the Star Crest Awards programme which has been specifically developed for that age group.
The team also created some of their own experiments including gravity and aerodynamics; music making and the life cycle of a butterfly, creating and flying paper planes and making home made musical instruments.
The team worked so well together they are looking to do STEM again next term at a different school with slightly older children, which will allow them to do more advanced activities.
Susan Bunch said: "I really enjoyed my year doing the STEM activities with the children as it was brilliant to get them engaging in learning about STEM. It would be good in a few years when they are older to go back to the class and get them involved in the next level of STEM."
Andrew Dunnett said: "I found working with the kids thoroughly enjoyable and they seemed very receptive to the different STEM based activities we carried out with them. This was very encouraging to see as our aim is to show them the opportunities that can present themselves by pursing STEM based subjects and careers. I look forward to continuing our STEM work and hope we can continue to interest young people in STEM subjects or careers."
Greg McEwan said: "It was a great experience working with the Primary one class as part of the STEM Crest awards. They were very enthusiastic about doing the experiments and it was great to see the knowledge they already had and the interest they showed in the tasks. Hopefully this is a starting point for some of the kids to follow up on and one day aim to have a career in a science or engineering environment."
Published 25 August 2016