Doubling up to promote careers in nuclear sector
Members of LLWR's Environmental Monitoring team joined colleagues from Radioactive Waste Management (RWM) at Geological Society careers days to raise awareness of careers in the nuclear industry.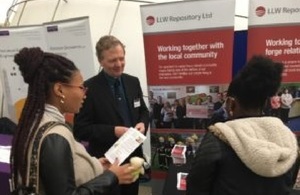 The 2 organisations shared a stall at fairs in Nottingham and Edinburgh to give university undergraduates and postgraduates the opportunity to find out about the latest career options, and talk to industry leaders about how they can gain entry into the sector.
LLWR's John Shevelan, who, on a lighter note, reported that LLWR's giveaway teddies were all the rage with students, said:
The joint stall worked really well with both teams working together explaining the future requirements of the industry and about the opportunities with the nuclear graduate programme. We had over 100 visitors come and talk to us.

RWM's virtual reality headsets, showing an interactive demonstration of the proposed geological disposal facility, proved popular but not as popular as the LLWR teddies!

Prior to the event we had considered how we could get students to the stall. As this was a geological careers day we couldn't resist the opportunity to show the visitors our LLWR rock!
The rock, with the LLWR logo running through it, was available for the first time at the careers days.
Published 16 February 2018