News story
Double win for DFID at Civil Service Awards 2013
DFID wins awards for operational excellence and most improved government body.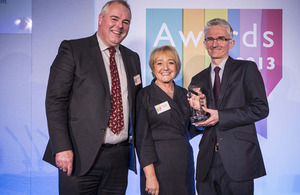 The Civil Service Awards, now in their eighth year, highlight innovative projects within the civil service and spread best practice right across government. DFID picked up two awards at last night's ceremony:
The Public Accounts Committee (PAC) Award for most improved government body
The PAC presented Mark Lowcock with an award in recognition of their judgment that DFID is the most improved government body on value for money and financial management.
In presenting the award, Margaret Hodge, the Chair of the PAC, said that DFID was an international leader in its field with a global reputation. The committee particularly praised the work DFID has done on the Multilateral Aid Review.
Commenting on the award, Mark said:
I am very grateful for the recognition this implies for the work of thousands of people across the whole of DFID's global team who have dedicated themselves over the last few years to getting fantastic value from every single penny of the taxpayer's money. We will spend a brief moment celebrating the progress we have made. And then tomorrow morning we will get up and get to work on all the other things we know we need to do to get better value – we are far from finished yet.
The Dame Lesley Strathie Award for Operational Excellence
The Clean Team Project is a DFID collaboration with Unilever, Water and Sanitation for the Urban Poor and the design innovation firm IDEO, launched in April 2012.
Nearly 1 billion people in urban areas today don't have access to adequate sanitation. This project sought to tackle this problem by developing an affordable and sustainable household solution designed for the urban poor, by the urban poor.
Working closely with communities in Kumasi, Ghana's second largest city, the team has co-created a freestanding toilet product and business model that doesn't require a sewage connection and is both aspirational and low-cost.
A full list of the winners can be found on the Civil Service Awards website.
Published 22 November 2013