Don't let your ski trip go downhill!
Thousands of skiers risk huge medical bills by not getting adequate travel insurance.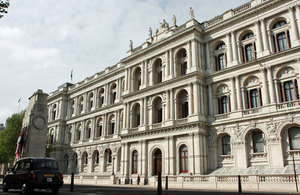 As British holidaymakers prepare to head for the slopes this Christmas, new research from the Foreign Office reveals that almost a third (31%) of people in the UK admit to not taking out travel insurance for their winter sports holidays.
If you are injured whilst skiing or snowboarding, you could face a bill for thousands of pounds if you're not properly insured. A helicopter ambulance and medical repatriation could cost you many times the price of your holiday. You should always get comprehensive travel insurance, and check exactly what is covered in the small print. For example, you may need extra cover if you want to ski off-piste.
Breaking your leg in the Italian Alps could cost you over £4,000 (including medical fees and repatriation); a spinal injury in France could cost £6,400. But if you're injured further afield or in a remote location, the cost of medical evacuation and repatriation could be even higher: for example, £23,000 for a spinal fracture in Argentina. The map below shows examples of insurance claims by British skiers who have broken bones in the world's skiing hotspots. (Click on the map below to open a larger PDF version.)
Alcohol and altitude don't mix!
Alcohol can affect you more quickly at high altitudes and seriously limits your awareness of danger and cold. Heavy drinking is often a key factor in many consular cases linked to skiing and snowboarding. As well as putting yourself and others at risk, if you are involved in an accident whilst under the influence of alcohol your insurance cover may be invalid. As a result, you may have to pay thousands in medical expenses if you are injured.
Dr Laurence Bristow-Smith, British Consul General in Milan, said:
"We've provided support in a couple of consular cases where fatal accidents in the mountains were a direct result of drinking too much alcohol. In one case the insurance company refused to pay out as the policy holder 'had put himself in unnecessary danger and was under the influence of alcohol.' This meant that repatriation costs, amounting to thousands of Euros, had to be met by the family."
For more information on staying safe on the slopes, see our advice on winter sports and travel insurance advice. We also have the latest general travel advice for your destination, including entry requirements and local travel.
Published 25 November 2010