Don't increase your Christmas waste-line
We now recycle more than we send to landfill. Keep this up over the holidays and ensure as much or your rubbish is recycled as possible.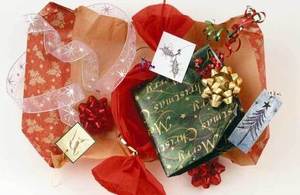 The amount of wrapping paper thrown away at Christmas in the UK alone would stretch to the moon, according to estimates by recycling advisors WRAP. This, along with around one billion cards and enough tin foil to cover Suffolk, equates to a lot of rubbish generated over the festive period.
People are recycling more at home than ever before, and it is now a way of life for many. With recycling easier than it has ever been you can play your part and help keep up the good work by ensuring as much of your festive waste is recycled as possible.
Waste Minister Dan Rogerson said:
This Christmas, Britain will generate millions of tonnes of rubbish and it doesn't need to end up in landfill.

Recycling is a simple way to save resources. It's easier than ever before for people to do their bit over the holidays and help make a real difference to the environment.
Christmas parties also create extra waste such as glass bottles and cans which can easily be recycled through kerbside collection schemes and local recycling points.
'Real' Christmas trees are also recyclable and local councils often arrange special collections in early January. Check with your local council to see if they can be put in your recycling container or whether they need to be taken to the recycling centre.
The trees are usually shredded into chippings or for composting which can then be used locally in parks or woodland and areas.
Louise Bowe, from WRAP's recycling campaign, Recycle Now, added:
It's really quick and easy to check what can be recycled where you live – just pop your postcode into www.recyclenow.com or check on your local council website.

The materials we recycle have real value – take a look at the Recycle Now website to see how your rubbish gets turned into new things! It's definitely worth checking at any time of year to make sure we are recycling everything we can.
Recycle Now has been going for ten years this year and, as a nation, we have come a long way – we now recycle more waste than we send to landfill. But there's still lots more we can all do to recycle things from all around our homes, more often.
The holidays may affect your local collections. To find your nearest recycling centre or learn more about your kerbside collection scheme over the Christmas and New Year period contact your local council.
Find out more about how you can recycle at home and details for your council
Image credit: WRAP
Published 23 December 2013