Don't get caught out at the Cricket World Cup
Essential travel advice for travelling cricket fans from the Foreign & Commonwealth Office and the England and Wales Cricket Board.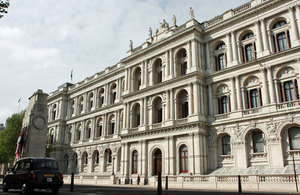 Thousands of supporters are expected to travel from the UK to the tournament which will take place in India, Bangladesh and Sri Lanka from 19 February - 2 April.
If you're travelling to the Cricket World Cup, you can find details of match dates, locations and travel tips in our travel advice for cricket fans.
Before you go
Visit your GP as soon as possible to check if you need any vaccinations or malaria tablets

Check entry requirements. Visas are required for India, Bangladesh and Sri Lanka. Note that if you intend to travel to India and then plan on attending matches held in Bangladesh or Sri Lanka, you should apply for a double or triple entry visa and must provide evidence of your itinerary on application

Make copies of your passport, including your visa pages; leave a copy with family or friends and carry another with you

Understand and respect the local laws and customs - do some research before you go

Sign up to Foreign Office travel advice on Facebook and @britishabroad on Twitter so you can receive the latest information on the go
While you are away
Always carry a form of photo identification - you may be asked to show it to authorities
Watch out for poor road conditions and dangerous driving and be extra careful when travelling by car or bus
Take care of what and where you eat and drink. If you do get ill, the British High Commission can provide information about local hospitals and doctors
Jeremy Browne, Minister for Consular Affairs, said:
"Following an exciting winter of cricket in Australia, we want British supporters to enjoy a trouble free time at the Cricket World Cup in South Asia. I recommend fans visit our travel advice at www.fco.gov.uk/cricket to help them prepare - from getting the right visa to taking out comprehensive travel insurance, seeking medical advice on malaria and vaccinations, and keeping safe and secure during their trip."
David Collier, ECB Chief Executive said: "The ECB is delighted to partner with the FCO to help promote this campaign. The safety of our fans is paramount and we urge everyone intending to travel to South Asia to support England in the ICC World Cup to visit the FCO website to get the latest travel advice."
Published 9 February 2011