Don't crack up this Easter
For British nationals about to travel over Easter, we have lots of information to help make sure you have an enjoyable getaway.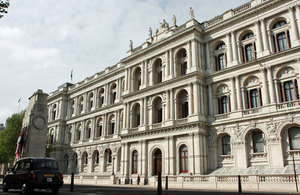 You can find our travel advice by country plus all of our information on passports, entry requirements, insurance and staying safe and healthy abroad on our travel and living abroad pages.
We are not aware of any pre-planned strikes or disruptions at ports or airports in Europe at the moment, but you should monitor our travel advice for the latest updates. You can also check the latest flight information for Europe from Eurocontrol.
There have been recent disturbances in some areas of Egypt and a curfew is in place from 02:00 to 05:00 in Cairo and other big cities. Luxor, Aswan and the Red Sea Resorts, including Sharm el Sheikh, are currently calm but the situation may change quickly. You should stay in touch with your tour operator and monitor our travel advice.
How to keep up to date with our latest travel advice
Get real-time updates on events likely to affect your holiday by:
Read our essential travel checklist
Full of tips and advice on things you need to know before and during your holiday, our travel checklist includes information on registering with LOCATE and finding your nearest British Embassy.
Passports and visas
Make sure all your passports are valid and you know the entry requirements for the places you intend to visit. You must have a certain amount of validity left on your passport to travel to some countries. For example, Turkey requires you to have at least six months validity on entry.
Some countries have different requirements depending on which cities you are travelling to and how long you expect to stay, like Egypt. British nationals normally need a visa to enter Egypt, unless you are travelling to certain resorts for up to 14 days.
If you're travelling to the USA, remember you will need to apply for an Electronic System for Travel Authorisation (ESTA).
Make sure you have comprehensive travel and medical insurance
An emergency abroad can be extremely expensive. If you need to be returned to the UK it could cost you thousands of pounds, unless you are adequately insured - an air ambulance from the Canary Islands could cost you up to £16,000.
You should ensure your policy covers all the activities you want to do, for example scuba diving or jet skiing, and check other common exclusions like drink-related incidents.
Try to book with a travel company that holds an ATOL (Air Travel Organiser's Licence) or is a member of an association that can offer financial protection for your travel arrangements like ABTA or AITO.
If you're travelling to Europe, you can get reduced or sometimes free emergency medical treatment if you have a European Health Insurance Card (EHIC). You still need travel insurance too, as the EHIC does not cover you for all medical treatment.
Driving abroad
Be prepared before driving abroad - find out the local regulations and what documents you need. For example, it's compulsory to carry a warning triangle and a reflective jacket when driving in France.
Make sure your car and travel insurance covers you to drive abroad, including breakdown recovery and medical expenses resulting from an accident.
If you're driving your own vehicle, make sure you have the right documents with you, like your log book, and whether you need a Green Card or International Driving Permit.
Published 18 April 2011