Don Foster hails localism progress
Don Foster welcomed a huge response from neighbourhood groups interested in using new powers to save local assets or take over services.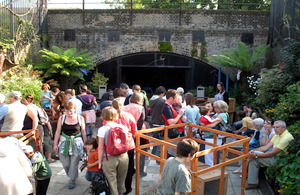 Communities Minister Don Foster told delegates at a conference on Tuesday that in just 3 months over 1,600 enquiries have been received by the Community Rights support website from groups interested in exercising the new powers and over £80,000 in grants have already been awarded.
The minister was speaking at a gathering of over 500 community enterprise and social action practitioners held in Bristol by Locality, the UK's leading network of community and social enterprises.
Speaking to delegates, Don Foster said:
"Localism is at the very core of what we are trying to achieve. Communities know their areas best and that is why we are not just talking about pushing power back to neighbourhoods - we are making it a reality and these figures show that it is happening where it matters, on the ground.
"New initiatives such as: the Community Right to Bid allowing people to step in and save the facilities and buildings that are important to them; neighbourhood planning, gives them a powerful tool to help shape their surroundings; and the Community Right to Challenge, allowing them to challenge the way a service is run and even bid to run it themselves, are all vital steps in moving power away from Whitehall and town halls and into the hands of local people.
"Across the country, communities are showing they have the ambition and determination to secure ownership of important local assets and get new projects off the ground, and today is a vital opportunity to share this knowledge and experience."
Community organisations and activists from across the country will meet at the convention to discuss how local communities can play a greater role in shaping their areas and hear from those who have already delivered ground-breaking projects.
Locality Chief Executive Officer Steve Wyler said:
"Locality '12 will bring together the most inspiring community organisations in the country. Within our membership there is an extraordinary reservoir of talent, knowledge and experience which has never been more important than it is today. In these difficult times, community enterprise, community asset ownership and community-led delivery of services offers a beacon of hope for us all."
Notes to editors
The Localism Act which was enacted on 15 November 2011 and is opening up opportunities for community groups, including social ventures, to bid to run local services and assets. Download A Plain English Guide to the Localism Act.

Recently the Community Right to Bid came into force so communities can 'stop-the clock' on the sale of valuable local assets and amenities such as post offices, village shops or community pubs, giving them time to put in a takeover bid of their own and protect it for the wider community's benefit.

A Community Rights website has been launched to give people more information about the new powers and opportunities available to them. The website will continue to grow and expand as more of the Rights come into force.
Published 7 November 2012