Press release
Dominic Jermey focuses on collaboration during north east visit
The new Chief Executive of UK Trade and Investment (UKTI), Dominic Jermey, had a message for north east firms.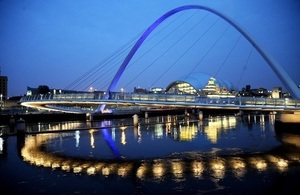 He stressed there would be an increased emphasis on more collaboration across government and with the private sector in a bid to ensure the Government's ambitious targets for increased exports and Foreign Direct Investment are met.
Ambitious target
Dominic announced:
The Government has set an ambitious target to double exports to £1 trillion, and to double foreign direct investment (FDI) in the UK to £1.5 trillion - all by 2020. This is no mean feat. Getting there will need the energy and creativity of all of us, it will need different ways of working between ourselves and our partners - both in government and within the business community.
Visit to the north east
Dominic was accompanied on the visit by David Coppock (UKTI Regional Director), Tas Baqir (North East Partnership Manager for UKTI's Investment Services Team), Stephen Gray (Head of Account Management) and Helen Golightly (Chief Operating Officer, North Eastern LEP).
Among the companies Dominic visited was Siemens Asset Services, in Hebburn, South Tyneside. It is one of three businesses run by Siemens plc in Hebburn – the others are Energy Automation and Energy Transmission.
Siemens is a key player in UK engineering and manufacturing. The company has 13 manufacturing facilities in the UK employing more than 13,760 people, 2,000 of them in the north east.
Speaking during his visit to the region on Thursday, Dominic said:
The north east has an enormous part to play. There are already many outstanding examples of north east firms of all sizes that have taken the leap and found new markets overseas.

Latest statistics show more than £11.7 billion worth of goods were exported from the region in the 12 months up to the end of March 2014 while there have been 54 inward investment projects creating or safeguarding more than 2,500 jobs.

There's no doubt that many companies in the north east are doing phenomenally well, however, there is still more to do. That's why I've been in the region to meet UKTI's team here, our local partners and companies to find out what they're doing and how we can work together better to inspire and support others to take up the export for growth challenge.
They heard from Des Young, Asset Services Director; Martin Gray, Commercial and Finance Manager and Vincent Thornley, Portfolio and Technical Manager.
Des Young said:
I was delighted to welcome Dominic Jermey to Siemens in Hebburn, and to be able to share news about the innovative work we are doing around microgrids and how our business is diversifying into rail component manufacturing.
Dominic added:
My challenge as new Chief of UKTI is to build on these firm foundations to drive higher rates of start-ups and create a landscape favourable for north east firms such as Siemens to thrive and contribute long term to growth and jobs.
About Dominic
Dominic moved to his new role from the UAE, where he was British Ambassador for four years. He was previously Managing Director of UKTI's Sectors Group for three years, helping 11,000 of the UK's most innovative companies to do business around the world, and was acting Chief Executive for UKTI in 2009. He began his career in corporate finance with a British investment bank and joined the Foreign and Commonwealth Office in 1993.
Contact
The north east international trade team can provide more information about the wide range of support services available to help your company succeed overseas. Call 0845 05 05 054.
Published 13 August 2014