News story
Domestic violence support at Christmas
Lynne Featherstone visits a Women's Aid refuge to raise awareness of the support available for victims of domestic violence over Christmas.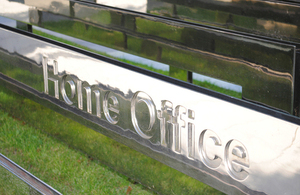 The minister spent time touring the Solace Women's Aid refuge, at a confidential address in North London, and spoke to support workers and victims about their experiences.
The Home Office is working with Women's Aid and the charity Refuge to encourage victims of domestic violence to seek help and support over the Christmas and New Year period and encourage people to look out for signs of abuse in family, friends, colleagues and neighbours.
Not a private matter
Equalities minister, Lynne Featherstone said: 'Christmas and New Year is a time of great joy for many people but can be difficult for those living in fear of violence or abuse in their own homes.
'If you are a victim, or if you suspect you know a victim, we want you to know that help is available.
'Domestic violence is not a private matter and everyone needs to be involved in helping victims.The work carried out at this refuge is of vital importance and really makes a difference to lives.'
A stressful time
'Christmas can be particularly stressful for women living with violent partners, as the family is together for an extended period of time and existing abuse can intensify.' added Nicola Harwin, chief executive for Women's Aid.
'Women's Aid has a national network of domestic and sexual violence services, with member organisations such as Solace Women's Aid providing lifesaving services throughout the festive period. If you are affected by domestic violence and need help or support we are there every day of the year.'
Last year there were more than a million female victims of domestic violence in England and Wales, nearly two women each minute.
And every week two of those women lose their lives at the hands of a current or former partner.
Each year more than 300,000 women are sexually assaulted and 60,000 women are raped. Overall in the UK, more than one in four women will experience domestic abuse in their lifetime.
Help is available
If you or someone you know is experiencing domestic violence, you can go to the Freephone 24 Hour National Domestic Violence Helpline on 0808 2000 247 or go to www.nationaldomesticviolencehelpline.org.uk. Anyone in immediate danger should call 999.
Published 10 December 2010