Press release
Domestic abuse sentence increased after Solicitor General's referral
The Solicitor General is successful in his bid to increase James Llewhellin's sentence for domestic abuse.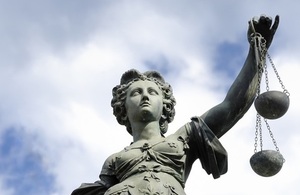 A Bristol man who beat his partner because he thought she was cheating on him has today had his sentence increased after the Solicitor General, Robert Buckland QC MP, referred it for being too low.
James Llewhellin, 27, beat his victim with numerous punches to the head and body, and knee strikes to the face. She suffered a fractured jaw which required the insertion of metal plates that she will have for life, a suspected broken nose and eye socket, and severe bruising to the rest of her face.
Llewhellin was originally sentenced at Bristol Crown Court in March, where he received 5 years 4 months' imprisonment. Today, after the Solicitor General's reference, the Court of Appeal increased his sentence to 7 years 6 months.
Commenting on the sentence increase, the Solicitor General said:
"Domestic abuse is a grave crime, and Llewhellin did lasting physical and psychological damage to his victim. I am pleased that the Court of Appeal has today agreed to increase his sentence, and hope that this brings his victim some comfort."
Published 24 May 2018