World news story
Doha British School represents Qatar in F1 in Schools
British Ambassador hosted Doha British School's team "Vortex Racing" which will be representing Qatar in the F1 in Schools World Finals 2014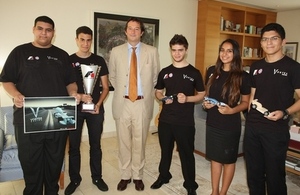 F1 in Schools will be celebrating its 10th World Finals this year, with its biggest ever event taking place in Abu Dhabi in November with Vortex Racing from Doha British School representing Qatar in this prestigious global educational initiative. Competing against 37 other teams from over 40 countries, Vortex Racing will have the trip of a lifetime when they arrive in Abu Dhabi.
The British Ambassador Mr Nicholas Hopton hosted Doha British School's team who presented to the Ambassador the National Championship trophy and some examples of their work.
HE Nicholas Hopton said:
I would like to congratulate Doha British School on this achievement. The British Embassy is proud that a British school will be representing Qatar in this international event. We wish the Doha British School's team the best of luck for this competition.
Vortex Racing won the Qatar National Final competition earlier this year against other local teams and is looking forward to participating in the World Finals between 14th and 24th November at Ferrari World.
Team Manager, Anastaysia Unnikrishnan said:
The team is really excited and proud to be representing Qatar at the 2014 World Finals. We have put in a lot of hard work and effort to get to where we are and we can't wait to compete against the rest of the world.
Andrew Denford, Founder and Chairman of F1 in Schools said:
we look forward to welcoming Vortex Racing to the tenth F1 in Schools World Finals 2014. We've reached another milestone in the history of F1 in Schools as we prepare to stage the tenth World Finals. Over the last ten years we've seen the event grow, seen the competition become increasingly fierce and have helped the careers of many of the winners. Not only can it be a stepping stone to a university career for the World Champions, all the participants gain tremendous life skills.
The F1 in Schools World Finals take place with the assistance of a host of sponsors and supporters. The team is responsible for securing all of their own sponsorship to fund their participation in the event. Exxon Mobil and Artline R+M and Associates are amongst some of the sponsors confirmed for the Qatar Champions. If you are a business that would like take advantage of this fantastic opportunity by sponsoring the Qatari representatives, and this educational initiative, then please contact clare.foynes@dohabritishschool.com.
About F1 in Schools
F1 in Schools challenges students to create their own Formula One team which is commissioned to design, manufacture and race a miniature Formula One Car; using 3D solid modelling software and other computer-aided manufacturing. It aims to involve pupils in Science, Technology, Engineering and Mathematics (STEM) by creating a fun and exciting learning environment for young people to develop an informed view about their future careers. The competition is growing rapidly every year in Qatar. If you are a school that is interested in participating in the Qatar National Finals 2015 then please contact richard.milton@dohabritischool.com.
Published 1 October 2014