Dogs and handlers prepare for Afghanistan
Dogs and their handlers from 104 Military Working Dog Squadron have been preparing for their upcoming deployment to Afghanistan where they will help ensure the safety of troops in 16 Air Assault Brigade and the Afghan National Army.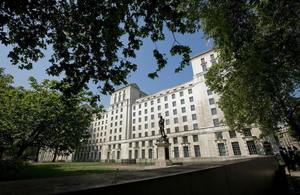 The highly trained dogs and their handlers from the unit, which is based at St George's Barracks, North Luffenham, will carry out tasks that will include patrolling the bases where fellow British soldiers are based, searching vehicles at checkpoints and going out on patrols on the front line to search for weapons, ammunition and explosives.
Sergeant Matthew Jones, aged 32, is one of 42 soldiers from the unit that will deploy. This will be his second tour of Afghanistan. The unit last deployed to Afghanistan in 2008. He said:
We have been completely focused on pre-deployment training since January. It has been a steady and methodical build up and we are all now just wanting to get there and get on with the job.
Private Sarah Smith, aged 23, will deploy with Eddie, a black Labrador, as part of the Arms Explosive Search (AES) Team. All AES dogs are trained to indicate the presence of arms and explosives in everything from buildings and compounds to all types of vehicles.
This will be Private Smith's second tour of Afghanistan. Although they won't know their exact location until arrival in Afghanistan, she expects to deploy on the front line working with the infantry units:
Eddie is a cheeky but loveable dog and he chews everything at the moment, but he is still young, he is only two years old," she said.
Fellow dog handler Private Joseph Cant, aged 23, will deploy with Fizz, a yellow Labrador. The duo will be responsible for searching vehicles that come into one of the main Army bases which include Camp Bastion, Lashkar Gah and Kandahar. He said:
The dog has to trust you as much as you trust him. It's all about building a relationship. Fizz is soppy and affectionate and a very good worker. She has a real drive to work and is a good, independent dog. She knows when it's time to work.
When the dogs first arrive in Afghanistan the first task will be to get them acclimatised to the environment, just like the soldiers themselves.
At Camp Bastion the dogs are housed in air-conditioned kennels which also have heating for the colder winter nights and each dog has a run area and covered sleeping area in their individual kennel. When based out of forward operating bases, the dogs will sleep with their handlers.
With a dog's sense of smell being approximately 42 times stronger than a human's it's dogs like Eddie and Fizz that are ideal for searching for improvised explosive devices (IEDs). Earlier this year a Belgian Shepherd dog called Chocolat discovered a Taliban production line for IEDs. See Related News.
The Officer Commanding 104 Military Working Dog Squadron, Major Steve Leavis, said:
I am proud of every single soldier. For some of them this will be their first operational tour and of course it will be very hard indeed. They are away from home, they have left their families behind, and they are working and living in tough environments. But they are all in good spirits and all are looking forward to the challenges that lie ahead.
They will do a good job, there is no doubt about it, they are first rate professional soldiers as well as dedicated handlers.
The dogs are recruited at between one and three years old, and most are unwanted pets. They are trained at the Defence Animal Centre in Melton Mowbray.
Training for a patrol dog takes 12 weeks, but an AES dog, commonly referred to by civilians as a 'sniffer' dog, completes a six-month intensive training course.
Published 2 September 2010