World news story
Do you want to be mentored by the British High Commissioner to Tanzania?
British High Commissioner announces she will mentor one lucky Tanzanian lady, under the age of 25, every 6 months. Deadline to apply Monday 20th March 2017.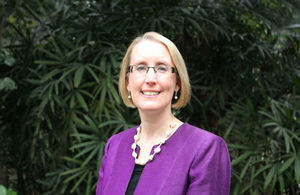 British High Commissioner, Sarah Cooke, used the occasion of International Women's Day to offer to mentor one young Tanzanian women over a 6 month period, twice a year.
The woman selected will have the opportunity to shadow the High Commissioner for a day, and have monthly meetings with her over the 6 month period. The High Commissioner will run two mentorships per year, each lasting 6 months.
The High Commissioner explained:
One of the challenges that women face is that they don't know where to go for advice and support about their careers,
I've been fortunate to have found two excellent mentors. They have helped me see my strengths, develop opportunities that work to those strengths and build the confidence to go for more senior roles. I've learnt so much from my mentors, that I want to do the same for young women in Tanzania. That is why I am offering to mentor a young woman (under 25 years) for the next 6 months to help her follow her dreams.
The High Commissioner said she had been thinking about the idea for some time and was really excited to be rolling it out now. She wanted to reach out to Tanzanian women who would not otherwise have the chance to get such mentorship. She said she would also be encouraging other women leaders to sign up as mentors.
How to Apply
Applicants should send a brief CV and a 1 page statement (max) explaining how they would benefit from the mentorship; and what they hope to achieve from it.
Please send your application to: bhcdarsocialmedia@gmail.com typing 'BRITISH HIGH COMMISSIONER MENTORSHIP' in the title of your email.
DEADLINE: The application window will open at 12.00 noon on International Women's Day, and close at 12.00 noon on Monday 20 March 2017.
You must be 25 or under and able to speak and write English (as the mentoring will be conducted in English).
Good luck! And together, let's #BeBoldForChange
British High Commissioner to Tanzania, HE Sarah Cooke in an interview with The Citizen.