Do you know a local sports hero?
Nominate an extraordinary person for an Honour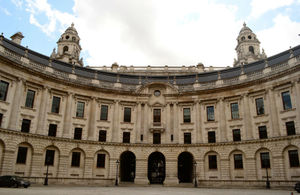 Anyone can be put forward for an Honour - and anyone can nominate a person they think truly deserves this recognition.
Do you know someone - male, female, young or old - who has made an outstanding contribution to sport? Someone who has been working hard, often behind the scenes, perhaps in a voluntary capacity? 
If so, why not help get them the recognition they deserve by nominating them for an Honour?
Local heroes
In recent years, DCMS has put forward many successful nominees who were recognised for different activities from across England.
Former semi-professional footballer Denzil Hart (pictured above) was awarded an MBE in 2011 for services to grass roots football in the North West - and Denzil's passion for helping children and adults get something out of the game applies both on and off the pitch. A committed community activist, Denzil has worked tirelessly across a range of community projects for 30 years to secure facilities and coaching for thousands of youngsters.
Former triple world champion boxer Duke McKenzie was recently awarded his MBE for services to boxing and the Croydon community. Through his work with the Croydon Youth Development Team, Duke continues to share his expertise with youngsters, teaching them how boxing skills can improve self-discipline and sportsmanship, giving them focus and keeping them off the streets. Duke is also a passionate advocate of Mind in Croydon with whom Duke worked on an award winning project which uses boxing training techniques to improve the physical and mental well-being of people with mental health problems.
Nominate someone today
You can submit a nomination at any time and anyone can be nominated for an award, providing they are still performing the service for which they have been recommended. Only one nomination is needed for someone to be considered for an Honour.
Published 20 May 2012