Djanogly: UK consumers benefiting from solicitors' big bang
Consumers in England and Wales will find solicitors more competitive and easier to access as new High Street providers are announced.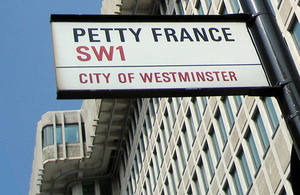 Consumers in England and Wales will find solicitors more competitive, more efficient and easier to access as new High Street providers are announced today.
Today three firms have been given approval to operate as Alternative Business Structures (ABSs) including Co-operative Legal Services, Lawbridge Solicitors Ltd, a family run firm based in Kent and John Welch and Stammers, Oxfordshire.
ABSs remove existing restrictions on legal firms allowing them to offer more competitive services to customers by joining up with other businesses, such as high street shops, banks and supermarkets, to offer legal services alongside other products. The changes also mean that solicitors can seek external investment in innovative ways.
To mark the occasion Justice Minister Jonathan Djanogly visited Co-operative Legal Services Headquarters in Bristol to talk to staff and customers about the reforms.
He said:
'This is a huge milestone for UK legal services and the future of Alternative Business Structures.
"ABSs introduce more competition in the market place, delivering competitive pricing, higher standards of product and more choice for the consumer.
'Our UK legal services are unrivalled around the world and these changes will allow them to reach new heights, as solicitors' firms develop new markets, seek external investment and join up with other businesses to offer different products to consumers and provide opportunities for growth.'
Eddie Ryan, Managing Director of Co-operative Legal Services, said:
'When the Legal Services Act was first drafted it was envisaged that its enactment would enable consumer brands to enter the closed world of legal services, so this is an historic occasion not only for the Co-operative Legal Services but for all customers needing access to legal services in the UK.
'We believe that the presence of The Co-operative's trusted brand and values, together with a combination of first class products and services, will provide customers with greater accessibility to expert legal advice and better value for money.
'We are committed to playing a leading role in this new era by offering straightforward value-for-money expert legal services, backed by an ethos of social responsibility and a level of protection that can be provided by a diverse, multi-billion pound organisation."
Today's licences have been issued by the Solicitors Regulation Authority (SRA), granted authorisation by the Ministry of Justice to issue licences. From January 2012, the SRA began accepting applications to allow solicitors firms to join with other businesses.
Antony Townsend, SRA Chief Executive, said:
'We're delighted to announce the first ABS organisations.  This represents a milestone we have been working towards for nearly two years. "The arrival of ABS should foster a more flexible and innovative market for legal services. By stimulating competition and encouraging innovation, we should see consumers' experiences enjoy a major boost.'
ABSs provide opportunities for businesses to expand and prosper and explore new markets. The changes also support growth, with greater opportunities for international investment into the UK legal services sector.
The Government is undertaking a number of initiatives to enhance the UK's position as a centre of legal excellence including:
the opening of the new Rolls Building, the modern and purpose built home for the Commercial Court and the Technology and Construction Court with a focus on commercial dispute resolution through mediation and arbitration and further the interests of the UK's legal businesses; and
an Action Plan outlining how Government will help UK legal services expand into new markets.
Notes to editors
For more information please contact Ministry of Justice Press Office, 020 3334 3521.
Media contacts for the three firms issued licences today are:
a. Co-operative Legal Services, contact Dave Smith: 0161 827 5614/ 07702 152771 / email
b. John Welch and Stammers, contact Lee Shrimpton, SRA: 01926 487154 / 07976 182295
c. Lawbridge Solicitors Ltd, contact Lee Shrimpton, SRA: 01926 487154 / 07976 1822953.
From October 2011 the Council for Licensed Conveyancers have been designated as a licensing authority to issue licences to firms that meet the criteria to operate as an alternative business structure. Other legal firms are already taking advantage of the new systems having been granted licences in 2011 by the CLC.
The Legal Services Board oversees the regulation of firms providing legal services and the Legal Ombudsman provides a complaints service for consumers. Both have been fully operational since 2010 and have worked closely with the Ministry of Justice preparing for the new licensing regime to ensure confidence and provide support to consumers and businesses should they need it.
Published 28 March 2012