Djanogly: Red tape challenge turns to legal services
Justice Minister Jonathan Djanogly has launched plans to scrutinise, simplify or scrap more than 150 regulations that affect legal services.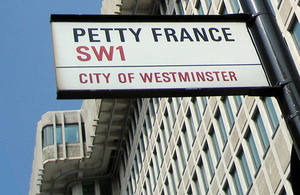 Justice Minister Jonathan Djanogly has launched plans to scrutinise, simplify or scrap more than 150 regulations that affect legal services, to reduce red tape and ease the burden on businesses and consumers.
The initiative is part of the Government's 'Red Tape Challenge' to simplify regulation, reduce bureaucracy for individuals and remove unnecessary red tape to reduce the burden on business to allow them to perform to their full potential.
Consumers and businesses are invited to comment on which regulations should be scrapped, improved or kept. Regulations will be scrapped unless there is a solid justification for why they should stay. Experienced 'Sector Champions' will provide expert knowledge on the issues faced in their specialist business areas.
Mr Djanogly said:
'By reducing red tape as part of this initiative across Government, we are helping businesses to compete, create jobs and unleash a private sector-led recovery.
'The Ministry of Justice is bringing together industry, professional bodies, regulators, policy makers, lawyers and analysts to work out solutions and a different approach to how regulation has been managed in the past.'
Ministry of Justice has responsibility for the 'Legal Services' theme and will consult on more than 150 regulations across legal services and claims management regulation, criminal justice, sentencing and rehabilitation, distress for rent and bailiff action, and data protection.
This builds on the MoJ 'Justice for Business: Supporting Business and Promoting Growth' paper which outlines how the Government's ambitious reform programme is making the justice system more effective, less costly and better for business. The reforms include streamlined court processes, improved regulation of legal services and reduced burdens on business through cheaper and easier dispute resolution.
The MoJ has also appointed 3 sector champions who will provide expert knowledge in their field. They are Nick Fluck (Deputy Vice President of the Law Society), Elisabeth Davies (Chair of the Legal Services Consumer Panel) and Zachary Bredemear (a barrister who sits on the Legal Services Committee of the Bar Council).
Nick Fluck said:
'We welcome this initiative, and although regulation is necessary, I hope legal professionals will get involved and help reduce the number of badly thought out, overly complex or obsolete regulations on Government books. A range of views will help identify obstacles and highlight the confusion red tape poses to their work, and help eliminate avoidable burdens.'
Notes to Editors:
The Red Tape Challenge was launched by the Prime Minister on 7 April, giving the public a chance to have their say on the more than 10,000 regulations that affect their everyday lives.

The Legal Services Theme  will go live on the Red Tape Challenge website on the 31st May for five weeks.

19 themes, totalling over 3700 regulations have been launched on the Red Tape Challenge website so far.
Overall, of the 1500 regulations (across 7 themes) where Ministers have already made decisions, the Government has committed to scrap or improve well over 50% - decisions that will bring real benefits to business, civil society organisations and individuals.
The Red Tape Challenge process does not include legislation falling within the responsibilities of the devolved administrations.
For each sector theme, experienced 'Sector Champions' are appointed who will provide expert knowledge in their field.  The champion acts as an intermediary between the sector and Government and help to direct the web-based debates and discussions.
Published 31 May 2012