Djanogly: More efficient dispute resolution needed
The Government will lead by example by committing to using better, quicker and more efficient ways of resolving legal disputes.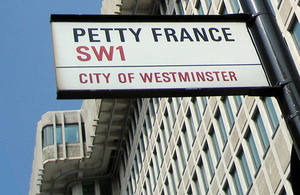 Britain's largest employer today signed the first ever Dispute Resolution Commitment (DRC) which requires all Government departments and agencies to use alternatives such as mediation, arbitration and conciliation wherever possible before taking disputes to court.
Making more use of the wide range of options available to resolve disputes has already saved taxpayers an estimated £360 million over the last decade. Today's signing of the DRC will build on this and save further time, money and stress for everyone involved by reducing their legal and court costs, and in turn reducing the number of cases unnecessarily clogging up the courts.
The commitment is the latest in a series of Government moves to encourage people and businesses to take responsibility for their own disputes, rather than turning to lawyers and judges to resolve issues.
It follows proposals, earlier this year, for the first major overhaul of the civil justice system in 15 years to tackle fears that a damaging compensation culture and an unwieldy justice system is costing businesses millions of pounds and deterring deserving individuals from using the justice system.
This would mean more people will use mediation before they can go to court and more cases will be dealt with by quicker methods. This follows changes introduced to the family justice system in April this year, which introduced a new pre-action protocol, requiring separating couples to attend mediation assessment sessions, after research showed it can cost a quarter of the price and take a quarter of the time of going to court.
The new DRC was announced today by Justice Minister Jonathan Djanogly and Attorney General Dominic Grieve QC MP, the Government's chief legal adviser.
Mr Djanogly said:
'I believe that government should be leading by example by resolving issues away from court using alternatives which are usually quicker, cheaper and provide better outcomes.
'We want people to see court as a last resort rather than a first option, and cut down on the amount of unnecessary, expensive, painful and confrontational litigation in our society.
'In many cases methods like mediation are simply a common sense solution which benefits everyone involved. Although they will not be suitable in every case, they are already saving taxpayers millions every year and can save much more.'
The DRC will renew and strengthen the Alternative Dispute Resolution Pledge made by Government in 2001. In the decade since the Pledge was made alternatives to court have been used for hundreds of disputes, saving taxpayers an estimated figure of more than £360m.
Mr Grieve said:
'There will still be cases which need to be litigated, notably where a legal precedent is needed to clarify the law or where it would not be in the public interest to settle a claim. However, the Government remains fully committed to resolving legal disputes by dispute resolution techniques other than litigation wherever it is possible and acceptable to both sides.'
Under the DRC, Government departments and agencies should seek alternatives to court action wherever possible and where all parties involved in the dispute agree. It is intended to help parties to explore solutions in a spirit of co-operation, enabling them to maintain good business relationships. It also promotes managing issues before they become disputes.
The Treasury Solicitor, Paul Jenkins QC said:
'The Treasury Solicitor's Department handles most litigation brought against government.  Wherever possible we actively explore ways of settling disputes without the need to go to court. In many cases this has produced large savings for all parties in terms of cost, time and disruption. So I strongly support the 'commitment', and its promotion of a flexible and constructive approach to the resolution of disputes.'
Notes to editors
The full text of the Government's Dispute Resolution Commitment and guidance for departments and their agencies
The Ministry of Justice published the consultation paper 'Solving disputes in the county courts: creating a simpler, quicker and more proportionate system' on 29 March 2011. This consultation sets out and seeks views on proposals to reform the civil justice system in the courts in England and Wales and includes questions on the appropriate use of ADR. The consultation ends on 30 June 2011 and copies of the consultation can be downloaded from the Justice website at: The Attorney General is the Chief Legal Adviser to the Crown and is also the Minister with responsibility for superintending the prosecuting departments along with a number of other independent public interest functions.
The Treasury Solicitor's Department provides legal services to over 180 central Government departments and other publicly funded bodies in England and Wales.
Statistics show family mediation can take a quarter of the time of going to court. The average time for a mediated case to be completed is 110 days compared to 435 days for non-mediated cases. (Source: NAO Report on Legal Aid and Mediation, March 2007). Mediation is often cheaper than going to court. Data from Legal Aid cases show the average cost per client is £535 compared to £2,823.
For further information contact the Ministry of Justice press office on 020 3334 3536 or email.
Published 23 June 2011