Djanogly: Justice supports business
Justice Minister Jonathan Djanogly met with business leaders to launch 'Justice for Business: Supporting Business and Promoting Growth.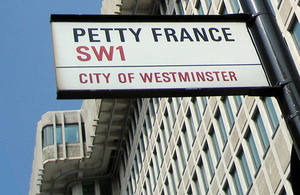 Justice Minister Jonathan Djanogly met today with business leaders to launch 'Justice for Business: Supporting Business and Promoting Growth,' a new paper outlining how the Government's ambitious reform programme is making the justice system more effective, less costly and better for business.
Changes include streamlined court processes, improved regulation of legal services and reduced burdens on business through cheaper and easier dispute resolution.
Work is intended to build on the success of the UK's world leading legal sector. Legal Services contributed around £19.3bn to the UK economy in 2010, approximately 1.3% of GDP. Legal services exports for 2010 totalled £3.6bn in 2010.
Mr Djanogly launched the department's paper at the business led Dispute Resolution Commitment Breakfast with FT350 business leaders where he commended their support for out-of-court ways of resolving disputes.
Mr Djanogly said:
'The vital role that the justice system can play in helping business to flourish has not been adequately recognised in the past. Economic growth can only be achieved if businesses are free to trade and prosper and the justice system can help them to achieve that.
'By delivering lower legal costs, regulation that encourages investment, and court processes which are faster, simpler and cheaper the Government is overhauling the justice system so that business can get on with the job rather than getting bogged down in unnecessary litigation.'
The ongoing reforms include:
Helping business and consumers resolve disputes more quickly and more amicably through increased focus on non-legal ways to resolve disputes, for example mediation, which can reduce costs to business and avoid good business relationships from being damaged;
Introducing 'Alternative Businesses Structures' which provide opportunities for legal and non-legal businesses to work together to explore new markets and new business models, with greater opportunities for international investment into the UK legal services sector;
Reforming legal costs in 'no win no fee' cases so that they are proportionate and fair, and businesses can operate with less threat of being sued or being forced to settle through the fear of high legal fees  - we are also banning referral fees in personal injury claims which encourage a compensation culture;
Consulting on introducing fees for Employment Tribunals to give employees a financial stake in their own cases and to encourage users of the system to think more carefully about whether the tribunal provides the best way to resolve their dispute;
Improving enforcement to give courts stiffer powers to ensure that creditors and businesses receive the money they are owed, and fewer debtors default on their court fines;
Better regulation of legal services, simplifying regulation and removing unnecessary red tape to reduce the burden on business including through the Red Tape Challenge;
Working with the private sector to provide opportunities for businesses to run a range of public services on behalf of the department, and to enter into joint ventures with public sector providers such as HM Prison Service.
Expanding the Working Prisons programme to make it easier for businesses to participate and access labour and manufacturing facilities at competitive prices.
The paper, published online today, builds on the success of the MoJ Action Plan for Growth. The Action Plan promoted UK legal services and expertise across the world to new markets, particularly South East Asia, Brazil, Turkey and India. The Action Plan also promoted UK dispute resolution services at home and abroad and the new 'Rolls Building' which was opened by HM Queen in December to provide a state of the art home for the Commercial Court and the Technology and Construction Court, attracting cases from across the globe.
The paper also supports the Government's economic policy objective of providing the right conditions for strong, sustainable and balanced growth and removing barriers to allow business to perform to their full potential.
Business Minister Mark Prisk said:
'Returning the UK to sustainable, balanced growth is the Government's overriding priority. It requires every single branch of government working together to support growth - not just the Treasury and the Department for Business.
'The Ministry of Justice has an important role to play and this paper includes a number of important reforms that will make a real difference for businesses across the country.'
Notes to Editors:
For more information contact Ministry of Justice Press Office on 0203 334 3521.
The breakfast meeting has been organised by The Institute of Chartered Accountants in England and Wales (ICAEW); a professional membership organisation, supporting over 138,000 chartered accountants around the world. ICAEW chair the working group set up to create a Dispute Resolution Commitment for business, encouraging businesses to make the use of mediation a first step in any dispute, whether it involves individuals, a partnership, a company or a corporate entity.
Published 8 May 2012