News story
Diwali 2013: message from Nick Clegg
Deputy Prime Minister Nick Clegg's video message to mark Diwali 2013.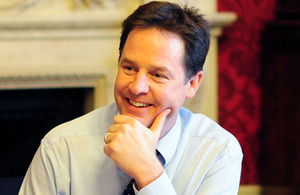 Deputy Prime Minister Nick Clegg's Diwali message
A transcript of the video message is below:
Across Britain, it's that time again when the dark nights of winter are lit up with the bright lights of Diwali.

And I would like to wish everyone taking part in these celebrations, both in this country and around the world, a happy Diwali and a prosperous new year.

One of the most important dates in the Hindu calendar, Diwali is a festival that marks the triumph of good over evil and light over darkness. And it has become the focus of joyous celebrations in many of our local communities, with people of all faiths and none, coming together for dancing, music and fireworks.

These festivities represent some of the biggest Diwali celebrations to be found outside of India, and reflect the powerful and ongoing contribution of Britain's Hindu, Sikh, Jain and Buddhist communities to every area of our national life.

So whether you're at home with family and friends, or you've been taking part in Diwali events on the Belgrave Road in Leicester, in Trafalgar Square, or elsewhere in the United Kingdom - wherever you are and whatever your faith – have a wonderful time.
Published 1 November 2013