Disabled Service personnel shine at snow sports championships
The recent 2012 Inter-Services Ski and Snowboard Championships (ISSSC) saw the Combined Services Disabled Ski Team (CSDST) put a difficult season behind them to deliver a confident performance.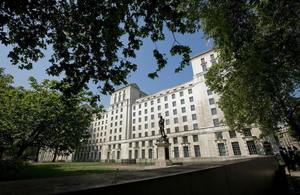 Both the more experienced and newer members of the team who braved the sub-zero conditions in Meribel were able to make significant progress. The team is made up of serving personnel and veterans who have been injured on or off operations
Amongst those racing were sit-skiers Mick Brennan, a Royal Signals veteran who left the Army in December 2011 having lost both legs in an explosion in Iraq in 2005, and former Royal Marines Reservist Alex Krol, who broke his back in a road traffic accident five years ago.
And three-track skier Fusilier Andy Barlow, in only his first season of competitive skiing, is from 1st Battalion The Royal Regiment of Fusiliers. He lost his left leg rescuing a colleague from a minefield in Afghanistan in 2006.
All three successfully competed against their able-bodied counterparts in a number of events, including the Slalom, Giant Slalom and Super G. The team were also joined by a promising new member, Captain Anna Poole, who made good progress in training, despite having completed just 20 days as an adaptive skier.
Captain Poole, from the Adjutant General's Corps, was in the GB luge team when she was injured in training in Latvia in 2005. Her left knee and foot never really recovered and she chose to have her leg amputated at the knee last June.
The 2011/2012 season has brought a number of challenges for the CSDST, with several members missing events due to injuries and conflicting commitments. Head Coach Staff Sergeant Mark Scorgie was therefore particularly pleased with the team's success at the ISSSC:
It's been brilliant because it has given people the opportunity to race in the best conditions on top class courses," he said. "Seeing Andy Barlow complete the Super G safely and strongly was a real highlight.
Another proud moment was to see one of our newer members, Alex Krol, an ex-Royal Marines Reservist who has a very high spinal break, come down the Super G. Anna's also a bright prospect for the future. How far we take it is down to her hard work and effort and determination to get to the places she wants to go.
For the CSDST, the ISSSC is one of numerous fixtures in a demanding circuit of training and competition. The team travelled to training camps in Austria before Christmas 2011 and to Serre Chevalier for the Army Championships in January 2012.
After a short break, they will return to the slopes so that newer and more advanced members alike can continue to train or compete at the appropriate level. Staff Sergeant Scorgie said:
It's a tough sport. The faster you go the more you have to put in to race with the best in the world and some of the guys do want to race at the top level and they take the knocks along the way. The top skiers have very little time off and what would usually be considered a pleasurable pastime becomes a full-time occupation.
With the next Winter Paralympic Games just over two years away and the qualification period rapidly approaching, the training for the top racers is gathering pace. Mick Brennan, who has been with the CSDST since it was founded in 2008, is amongst the team's paralympic hopefuls.
He has already seen success on the international circuit this season and will soon compete in national events in Croatia and Slovenia:
It goes to all levels - you might just want to have a bit of fun but you might want to go through to racing," said Mick. "At the moment I'm 15 FIS [International Ski Federation] points off world cup qualification because I had last season out.

This season I've had two top-ten finishes at Europa Cup level, which has been really good. I've got a few more Giant Slalom races coming up so if they go well I'll hopefully be knocking on the door of the World Cup.
However, not all the team's members are aiming for the international stage. One of the CSDST's primary aims is to continue providing training and racing opportunities for skiers of varying abilities. To that end the team has been working hard on its development stream, with links to veterans' charities and dedicated skiing organisations.
It is hoped the new focus will build a firm foundation for the future, as Team Director, Major Ian Large, explained:
An exciting and much needed improvement is the creation of the Foundation Training Team, which will better nurture and shelter the new talent joining the team for the 2012/13 season. It will ensure newcomers are given the technical training they want in a more structured and controlled environment.

When we started the team we pushed people into racing straight away, and while racing is still the ultimate aim, we have moved more towards development. For a young guy who might recently have lost a limb and is just learning to ski it's a lot to ask for them to race.

Now people will spend their first year training. Not everyone is going to be a paralympian or win a world cup but, if we have a broad enough base to build on, we may be able to get that one person up to the top of the triangle who is going to be a paralympian.
The CSDST is open to any serving member of the Armed Forces with a permanent disability. It is also open to those who have previously skied with the team, but have since left the Services. The disability may have been sustained through action on operations, illness or accident. For more information on the CSDST visit their website at Related Links.
Published 17 February 2012