Press release
Disabled Persons Transport Advisory Committee (DPTAC) recruitment
Seeking applications for the position of DPTAC Chair.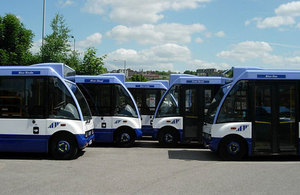 Established in 1985, the Disabled Persons Transport Advisory Committee (DPTAC) is an independent advisory group offering advice and challenge to the government, and support to the transport industry to help meet the transport needs of disabled people.
DPTAC has been subject to a review to improve its effectiveness, and following a successful process to appoint new committee members earlier this year, we are now seeking applications for the position of Chair for a 3 year term.
Details, including the application pack, are available from the Public appointments website.
Applications close on Tuesday 26 August 2014.
News desk enquiries
Media enquiries 020 7944 3021
Out of hours media enquiries 020 7944 4292
Switchboard 0300 330 3000
Published 20 November 2013
Last updated 31 July 2014
+ show all updates
Recruiting for the position of DPTAC Chair.
First published.