News story
DIO provides new logistics facility in Surrey
A new £7.5 million facility provides army recruits with the latest equipment and training at Army Training Centre (ATC) Pirbright.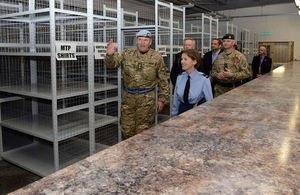 Army recruits will have ready access to the latest equipment and training thanks to a new £7.5 million logistics facility provided by the Defence Infrastructure Organisation (DIO) at Army Training Centre (ATC) Pirbright.
Air Vice Marshal Elaine West officially opened the new facility, which took 15 months to complete.
The new building brings together a range of Quartermaster's functions which previously had been spread over several buildings. The new building means the training centre will now be able to manage an increase in recruits training at the base.
AVM West, who is Director of Projects and Programme Delivery at DIO, said:
I was delighted to be invited to open the QM Store at Pirbright and to see the terrific facilities now provided.

The collaboration between the DIO Project Team and the QMs staff has been outstanding and I was especially pleased to meet the very people who will shortly be working from this brand new building.
Lt Col Keith Armstrong, Staff Quartermaster at Pilbright, said:
The opening of this purpose built integrated facility moves us firmly into the 21st Century. The building allows us to significantly improve the logistics service delivery across the whole of ATC Pirbright.
The development work involved liaison with a variety of partners including Natural England and the local planning authority due to the site's close proximity to areas of Special Scientific Interest and Special Protection Areas.
Published 13 November 2014