News story
DIO presents Plain proposals in Wiltshire
The Defence Infrastructure Organisation (DIO) has presented its early proposals for Army basing in Wiltshire at a public exhibition.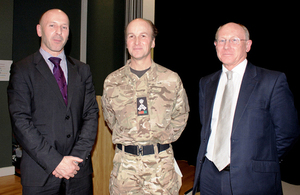 Some 100 people attended the Army Basing Exhibition in Trowbridge to review proposals for the relocation of around 4,000 extra service personnel to the Wiltshire area between now and 2020. Attendees included representatives of parish councils and local businesses.
The moves in Wiltshire form part of the Regular Army Basing Plan announced by the Defence Secretary, Philip Hammond, in March 2013. This plan set out the where the Army will be located as it restructures and units move back to the UK from Germany.
The exhibition is part of ongoing engagement with Wiltshire Council, preparing and planning for the changes in the area. Changes will include significant new build and conversion of existing single living accommodation, catering and technical facilities on existing Ministry of Defence sites.
An extra 1,200 new houses will be provided to accommodate service families. In total, approximately £800 million will be invested to provide new and refurbished facilities to support units, service personnel and their families in the Salisbury Plain area.
David Underhill, Head of Basing Programme Delivery, said:
DIO's priority is to support our armed forces by providing what they need to live, work, train and deploy on operations. Our aim is to provide fit for purpose infrastructure, making the most of current facilities and maintaining integrated and sustainable communities for both military and civilian families moving to the Salisbury Plain area by 2019.

Many of the changes will be centered on Tidworth, Bulford, Perham Down, Larkhill and Upavon; early engagement with people who live and work in those areas is vital to the success and acceptance of the plan. We greatly value the feedback and comments on the list of potential sites we presented as part of the exhibition.
The information collated will contribute to the master planning process, beginning with a formal consultation period in January 2014 for 6 weeks; the master plan setting out the context for the moves, infrastructure plans and the associated planning applications that will be required to be submitted to Wiltshire Council for endorsement in May 2014.
Published 6 December 2013