News story
DIO delivers new accommodation for armed forces in Andover
Army personnel based in Andover are benefiting from brand new living accommodation thanks to the Defence Infrastructure Organisation (DIO).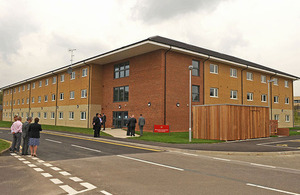 DIO worked with Debut Services Ltd, a joint venture between Lend Lease and Babcock, to create the 72-bed Elixheim building, which has been officially declared open.
The facility, which will be used by junior and senior officers, was delivered at the army headquarters as part of DIO's single living accommodation modernisation (SLAM) programme, an ongoing project to provide new and refurbished living accommodation for the armed forces.
It is the fourth block to be completed at the site and will be instrumental in bringing army headquarters staff together in one place, leading to more effective working.
The 3-storey building has a kitchen and bathrooms on each floor. Senior officers get a bed space with bathroom and living area, while the junior officers are provided with a bed space and en suite shower room.
The block was officially opened by Major General Tyrone Urch, Chief of Staff, Land Forces, at a special ceremony. He said:
I'm delighted to open this building. I know it's going to be full very quickly. Thank you very much for everything everyone has done in contributing to it. It's been a masterclass effort.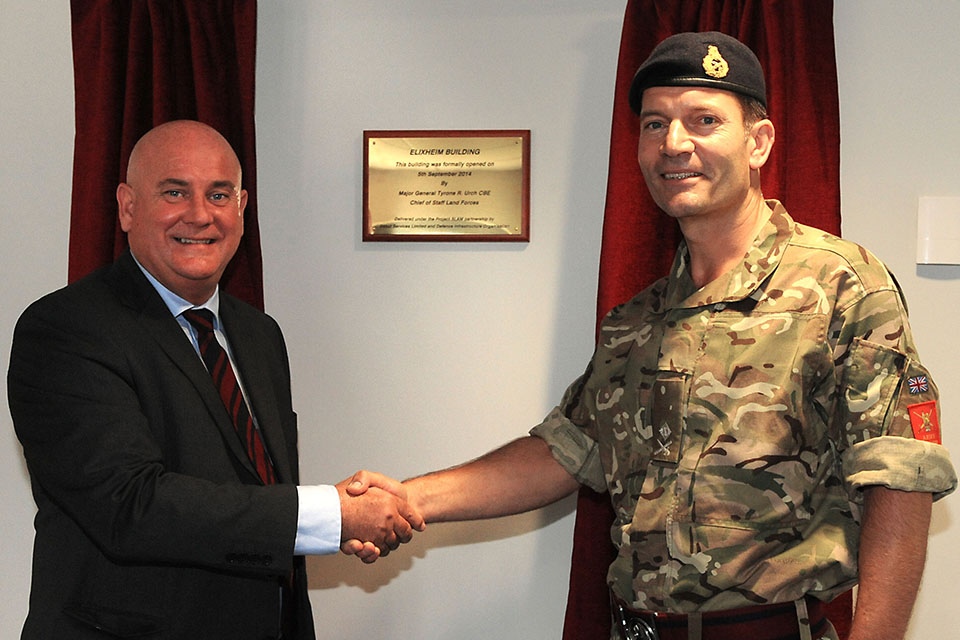 David Graham, DIO's deputy head of projects, who is responsible for SLAM, added :
Project SLAM has consistently delivered first class single living accommodation for the armed forces across the UK and this new building is no different.

We know that the occupants greatly appreciate the Project SLAM accommodation which demonstrates DIO's commitment to improving living standards for service personnel.

I would like to take this opportunity to congratulate the Project SLAM integrated project team, prime contractor and supply chain members and all those involved, who have contributed towards this project.
Andy Hill, Lend Lease and Debut project manager, said:
I am always extremely proud to showcase our ability to create high quality space and accommodation for our military personnel.

We have successfully completed more than 21,000 bed spaces over the last 11 years for DIO and MOD across the country, which equates to more than 115 projects totalling more than £1 billion.

During this time, we have created a brand which has a high level of consistency, appearance and performance, and have gained a reputation for providing certainty of delivery and best value.
Published 15 September 2014