DIO delivering on rehab centre for Devon Royal Marines
The Defence Infrastructure Organisation (DIO) has delivered a £3 million dedicated training facility for injured Royal Marines at Lympstone in Devon.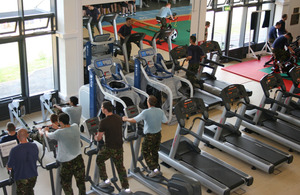 Working with regional industry partner Debut Services, the Parker Hall Trainee Rehabilitation Project provides state of the art rehabilitation equipment for injured Royal Marines before returning them to mainstream training.
The centre contains a matted exercise area, bespoke cardio-vascular and weights equipment, reduced-impact surface running-track, physiotherapy, and consultation bays with remedial instructors on hand.
Project Sponsor Rod Carter from Navy Command, remarked:
The teamwork and co-operation between DIO, Debut and the other supply chain members has been tremendous, it has produced an outstanding facility which will allow the Unit to stay at the fore-front of military training and continue to produce the highest standard of trained military personnel.
Royal Marines recruits go through one of the toughest training regimes in the world at the Commando Training Centre at Lympstone, near Exeter, before they are allowed to wear the coveted Green Beret and enter the Commandos' elite ranks.
The new facility supports training, supervision and treatment for at least 50 recruits at any one time. As a purpose-built resource it aims to provide a better quality of rehabilitation service to injured recruits.
Emily Simmons, DIO Construction Project Manager stated,
DIO's priority is to support our Armed Forces as they prepare for operations. Parker Hall will provide a first class dedicated facility for Royal Marine recruits to undergo remedial physiotherapy.
This will allow them to return to their mainstream training fighting fit with the best possible chance of success. I believe, Parker Hall is a building the Royal Marines can be proud to use.
Paul Nix, Debut and Lend Lease Core Works Director, added:
Parker Hall is one of several projects that Debut is constructing on behalf of DIO and the Royal Marines at CTCRM Lympstone to support our armed service personnel. This project will provide crucial rehabilitation services, built specifically for purpose, that assist injured recruits to return to training as quickly as possible.
Published 3 August 2012