DIO begins scrutiny of national housing bidders
The Defence Infrastructure Organisation, the MOD's land and property arm, has started discussions with three private sector bidders for its new commercial arrangements to manage 50,000 UK military homes.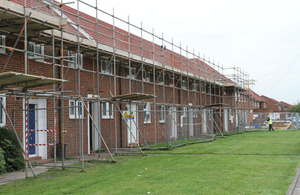 Under the Next Generation Estate Contracts (NGEC) programme, the National Housing Prime will be awarded in 2014 for an initial five years, with the option to extend it by a further five years. It is estimated to be worth around £1.5 billion over 10 years, depending on which services are included and whether the contract is extended.
The new arrangements include options to outsource a number of additional housing services for the first time, such as housing allocations, move-in and move-out services, and the provision of furniture and fittings.
At the start of a four-month 'competitive dialogue' process, representatives from each of the bidders - Carillion Holdings Ltd/Enterprise Ltd, Babcock Support Services Ltd, and Keir Ltd/Turner Facilities Management Ltd - recently attended a two-day briefing session in MOD Main Building in Whitehall, London.
During the dialogue process the bidders will engage in a series of one-on-one discussions with the NGEC team, exploring their planned approaches to the delivery of key services such as routine maintenance, a 24-hour maintenance helpdesk, repairs, data management, and the preparation of empty homes for reoccupation. Each bidder will also be invited to describe their supply chain development plans, and be encouraged to offer innovative solutions for reducing estate management costs.
Colonel Bill Morris, the DIO contract project manager, said:
Our experience in recent years has underlined the importance of providing service personnel with top-level care, and in future the National Housing Prime will be the key to providing them and their families with the decent standards of housing that they deserve.
This is a challenging contract needing a flexible, innovative industry partner who understands the unique needs of military families'. These discussions are aimed at raising bidders' awareness of the detailed requirement and helping them develop the best possible tender solutions.
David McLaughlan, the NGEC commercial manager, said:
We are looking for an excellent prime contractor with excellent suppliers, be it for pest control, plumbing, electrical services, or damp-proofing, and we will be looking very closely at bidders' supply chain plans. I would urge smaller businesses with innovative solutions for our housing estate to make themselves known as soon as possible to the three shortlisted bidders.
Following the initial dialogue, bidders will be invited in July to RAF Wyton, Cambridgeshire, to present their outline solutions to DIO officials, followed by more detailed technical solutions in autumn 2012.
Published 26 June 2012