DIO and Inland Homes working on plan for Beaconsfield site
The Defence Infrastructure Organisation (DIO) is set to work with South Bucks District Council (SBDC) and Buckinghamshire County Council (BCC) to formulate a detailed development brief for the future of the Defence School of Languages site at Wilton Park, Beaconsfield. The site has been identified within SBDC's Core Strategy for a high-quality residentially-led mixed-use development scheme.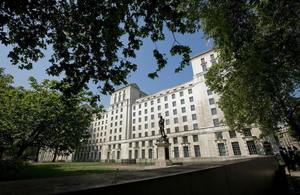 Whilst the future location of the Defence School of Languages has not been decided, it will not be at Wilton Park - making the site surplus to Defence requirements and available for development.
DIO is also in discussions with Inland Homes, which owns land adjacent to the site that is likely to be required as part of the comprehensive redevelopment to deliver an appropriate means of access off the Pyebush roundabout. Extensive public consultation, which will follow in due course, will give local people the opportunity to provide their views on the form of future development on this important site.
Martin Lloyd, DIO Head of Disposals South, said:
The Defence Infrastructure Organisation continually reviews its property holdings to ensure that only sufficient land and property is held to meet current operational requirements.

Future development of the Wilton Park site in Beaconsfield supports the Government's housing agenda in providing Brownfield land for much-needed market and affordable housing.
Paul Brett, Land Director of Inland Homes, said:
Inland are delighted to be in discussions with DIO, South Bucks District Council and Buckinghamshire County Council to formulate the development brief on this very important project.

As highly experienced developers with particular expertise in creating new communities on challenging sites, we are looking forward to creating a very special new community that integrates well with its sensitive surroundings.
Roger Reed, Portfolio Holder for Sustainable Development at South Bucks District Council, said:
Wilton Park is an important opportunity site where the District Council will be seeking a - high quality - mix of residential and employment development, community facilities and open space.
"The planning policies in the Council's recently adopted Core Strategy provide a broad framework for redevelopment of Wilton Park, and the next stage in the process is to prepare a development brief that will establish the more detailed development and design principles for this key site."
Published 15 October 2012