World news story
Digital Fashion Week 2014 - Speech by HE Antony Phillipson
Speech delivered by High Commissioner during the closing reception of Digital Fashion Week hosted at Eden Hall on 3 November.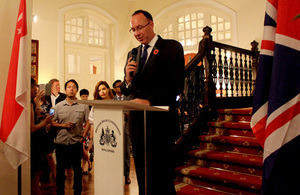 Ladies and Gentlemen, welcome to Eden Hall for this very special event, the closing party for Digital Fashion Week 2014.

We have a number of VIPs here this evening, and I will mention some in the next few minutes, but may I start by welcoming Simon Fraser, Permanent Under Secretary at the Foreign Office who has just flown in from London.

Now, this is certainly meant to be a party, but it's also an important event for the British High Commission and the British Council here in Singapore and please just give me a few minutes to make three points about why we are holding this party here, and indeed why they've given me the mike, it's clearly not because I am a fashion icon…

The first is to support Digital Fashion Week, in its third year and organised by DFW Creative in partnership with the British Council. It's a fabulous concept that they have devised, Asia's only live streamed fashion showcase and only fashion event that promotes the best young fashion designers through events and digital platforms in Asia with online viewers worldwide watching live fashion week action, backstage interviews and runway shows, as well as interacting via major social networking platforms including YouTube, Google+ and Twitter, and making instant purchases off the live runway.

Some of you will know that we supported them last year as well, when the theme was a "British exchange". This year it goes a bit wider for "European Exchange", and I'm delighted that Veronica, Director of the Italian Cultural Institute is here with us this evening…

….but there's still a strong British contribution from London based designers, Fyodor Golan, and we'll see some of their wonderful work in a moment and having just had the privilege of seeing their show I can tell you it is spectacular….

We also have Hilary Alexander, the renowned former fashion editor of the Daily Telegraph, and celebrity stylist Rebekah Roy with us this evening.

Which leads me on to my second point which is the importance of London's role as one of the world's foremost fashion capitals, and the contribution it makes to the British fashion industry.

This is an industry that is worth £26 billion to the UK economy. The combined value of UK textiles and apparel exports is £7.3 billion, largely down to the universal appeal of Britain's high quality branding, rich textile heritage and the tireless innovation of British designers.

And the reason this is so important is that back in 2010 the British government set a target of increasing our exports to £1tn by 2020 and ever since then a top priority for all British High Commissions and Embassies around the world has been to do whatever we can to help UK exporters to achieve that target.

One of the ways we have been looking to contribute to this effort leads me to my third and final point, which is the GREAT Britain campaign, which you will see features prominently in various locations around the house and I was thrilled to see formed the backdrop for Fyodor Golan's show earlier this evening.

The GREAT campaign is quite simply the Government's most ambitious international marketing campaign ever. On the one hand it's about soft power, creating a positive, warm, persuasive approach to our international engagement by showcasing the very best of what Britain has to offer.

It grew out of the wonderful year that we had in 2012 when we hosted the Olympic and Paralympic Games and celebrated the Diamond Jubilee of Her Majesty The Queen.

The aim was to capture that sense of buzz, and of achievement, a moment when the UK put itself on the global stage and told the world they were invited to visit….and they did!

But it's not just about creating a warm glow because there is also a hard-headed, commercial aspect to it as well. In short it is about encouraging the world to visit, study and do business with the UK. It's about building on our heritage and showing off a modern, cutting-edge, knowledge-based economy.

Which is why we now use the GREAT campaign as a key part of the Government's industrial strategy, and our determination to win in what the Prime Minister has called the 'global race for growth'.

Here in Singapore we are currently running the first ever Shopping is GREAT Britain campaign, with GREAT branding featuring prominently in public spaces including Robinsons department store windows on Orchard and at Raffles City, and at more than 150 other stores across Singapore with participating UK brands such as Ted Baker, Cath Kidston, Topshop, Penhaligons and Marks & Spencer to name just a few.

Part of the campaign is that if you spend $100 on British brands you can enter a contest to win a shopping trip to London, with flights provided by British Airways, and many thanks to them for that.

BA and the other brands involved are also featured in a new TV series called 'Fit for Fashion' which is currently being broadcast across Asia, and I am delighted that Riaz, the Creative Director is also here this evening.

So, ladies and gentlemen, thank you again for joining us. I hope that you all saw something of Digital Fashion Week 2014 but even if you didn't that you'll get some sense of the buzz and energy of that and the GREAT campaign here this evening.

Thank you.
Further Information
View photos from the event on Flickr
Follow the British High Commissioner to Singapore on Twitter @HCAPhillipson
Follow the British High Commission Singapore on Twitter @ukinsingapore
Follow the British High Commission Singapore on Facebook
Published 5 November 2014