World news story
Did you know expats will be able to vote in the EU referendum?
EU Referendum – Information for Overseas Voters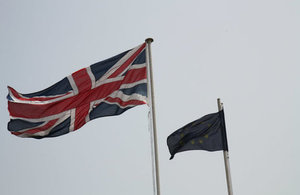 The referendum on the UK's membership of the European Union is going to be a significant event and we know lots of British experts will want to make their voices heard. Lots of UK nationals who live overseas don't know that they may be able to take part. With the date of the EU referendum set for Thursday 23 June 2016, we're wasting no time in making sure that as many overseas UK nationals as possible know that they may be able to vote in the poll.
To register as an overseas elector you must have been registered to vote in the UK in the last 15 years. You will also need to know your National Insurance number and date of birth, and have your passport to hand if you have one. If you don't have a National Insurance number you can still register, but you may have to supply more information to show who you are.
If you were too young when you left the UK to have been registered, then you can register as an overseas voter if your parents (or guardians) were registered in the UK in the last 15 years.
UK citizens overseas have traditionally proved particularly difficult to reach, as they are not exposed to the Electoral Commission's UK-wide advertising campaign, they are geographically spread out and we don't have detailed information about their exact locations or even their numbers. Estimates range from there being 3.5–5.5 million UK citizens living overseas.
The sooner overseas voters are registered to vote, the better. You can now register online to vote at www.gov.uk/register-to-vote - it takes less than five minutes and once that's done you can choose to vote via one of three methods. You can vote either by post; by proxy (you designate someone you trust to vote on your behalf in the UK); or in person at a polling station in your constituency, but of course if you live overseas you're unlikely to be able to able to do this. It should be easier to vote by post for this referendum as the timetable for postal votes has been extended to allow postal votes to be sent out even earlier than usual, giving you a bit more time to receive, complete, and return your ballot pack to the UK.
The final deadline for registering to vote will be 12 working days before the day of the Referendum.
Document information
Published: 23 February 2016