World news story
Diaspora can help to improve healthcare in Sri Lanka
Four young British Sri Lankan doctors explore a neutral platform for challenging deep-rooted ethnic tensions.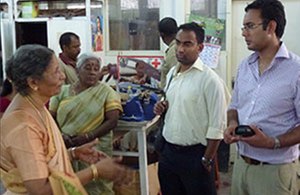 In November 2012, four young second generation British Sri Lankan doctors travelled to Sri Lanka to learn about healthcare issues on the island. The trip was part of International Alert's diaspora project, which is funded by the British High Commission in Colombo. During their trip, they met many interesting and inspirational people and returned to the UK having gained an understanding of the complex issues facing post-war Sri Lanka.
Here, Malathi Gunaratne shares her thoughts on the group's journey as well as the next steps in continuing to engage the UK-Sri Lankan healthcare community and initiating projects in Sri Lanka.
Initially a group of strangers, the only things unifying us were the label 'doctor' and the fact that we all shared Sri Lankan heritage. It soon became evident that we all felt privileged to have been given this opportunity and that we had a common interest in Sri Lanka's changing healthcare issues as well as a desire to see a peaceful future for Sri Lanka's communities – one in which all would have a stake and which the diaspora could positively contribute towards.
Our eight-day visit took us to Galle, Jaffna, Batticaloa and Colombo. We discussed healthcare, politics and the deep-rooted ethnic tensions. Being of Sinhalese heritage, I was curious to find out the 'Tamil take' on the conflict between diaspora groups in the UK. I felt our group dynamic had developed into one which allowed frank discussion of our thoughts and opinions on the matter.
On the road
A very real problem for minority patients in a given community is having to travel outside of their home areas to receive specialist care due to specialist services not being available across the island. For example, at the time of our visit, a patient with a neurosurgical or cardiothoracic problem in Jaffna would have to travel to the nearest centre able to provide this specialist care – in Kandy. Imagine a place where all the signs are in a language you cannot read, people are speaking a language you cannot understand, you are ill, vulnerable and afraid, and there is nothing familiar in the environment to comfort you. Although these patients are in the minority, it is our role as healthcare professionals to affirm worth and preserve the dignity of all of our patients. Another healthcare area where this geographical divide poses a real problem is within mental health. A largely centralised mental health service means that vulnerable patients of all ethnicities with a mental health disorder may need to be treated as inpatients at large centres many miles from home. As such, they are removed from their families, friends and familiar environment. This is particularly pertinent to Sri Lanka as a post-war nation, where exposure to conflict has made people more vulnerable to developing mental disorders.
Many other healthcare issues were highlighted to us during this trip. Some of these are problems specific to a post-war nation. Others are problems faced by a country undergoing rapid economic development and facing a transition from communicable to non-communicable or chronic health problems. For example, the stigma associated with mental illness, sexual health and sex education and gender-based violence can act as major barriers to accessing healthcare. The lack of training of allied health professionals whose role is paramount to the management of chronic disease was another recurring topic discussed in detail.
Sharing our experience with diaspora communities
In December 2012, we presented our main findings from the trip to individuals and institutions from the UK-Sri Lankan medical community and civil society. We also provided a forum to discuss how UK-based health professionals from the Tamil, Muslim, Sinhalese and Burgher communities can work together with each other and their colleagues in Sri Lanka to support positive health outcomes across the island.
The group discussed several tangible ideas for improving health outcomes and promoting reconciliation, including an exchange programme for British and Sri Lankan medical students, in partnership with medical faculties in Sri Lanka. The programme should encourage British Tamil students to spend part of their exchange in the south and west of Sri Lanka and British Sinhalese students to spend part of their exchange in the north and east.
We hope that by working together in this way, the group will also serve as a platform for dialogue and support the development of understanding between different Sri Lankan ethnic groups, both in Sri Lanka and in the UK. As a member of diaspora, it is easy to feel disconnected from one's ancestral home, to grapple with one's identity and to feel a desperate desire to be able to relate to and give something back to the community at home. We all went to Sri Lanka not knowing what to expect and came back not only aware of the healthcare challenges facing Sri Lanka but also enthused and excited about making a small difference.
The group is eager to engage as many healthcare professionals, associations and individuals as possible from across the diaspora communities. If you would like to get involved, please email Meera Chindooroy at mchindooroy@international-alert.org.
Published 21 May 2013