Diamond Jubilee window unveiled
Stained glass window presented as a gift from Parliament.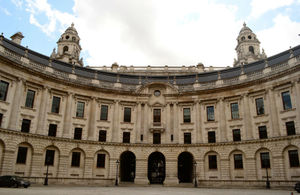 The Queen has unveiled a window which will be installed in Westminster Hall to mark her Diamond Jubilee.
The window, designed by British artist John Reyntiens, was a gift from the House of Lords and House of Commons.
It was presented to The Queen today following a presentation of addresses from both Houses of Parliament to celebrate the sixtieth anniversary of Her Majesty's Accession to the Throne.
In a speech in Westminster Hall, The Queen paid tribute to Prince Philip's support during her reign and said the Diamond Jubilee was a chance for people to come together and celebrate.
The window consists of up to 1,500 pieces and takes its inspiration from seventeenth century heraldic art and the country's long tradition of stained glass.
It will remain on display so that visitors can examine the craftsmanship in detail until it is installed in the three central panels of the north window in Westminster Hall later this year. The north window has been fitted with plain glass since the Reformation, although it had to be replaced following damage in 1974.
Further information
Published 20 March 2012