To protect the most vulnerable section of the DFR reactor nitrogen gas blanket, a protective cage has been installed around the control system which is housed in the DFR airlock entrance.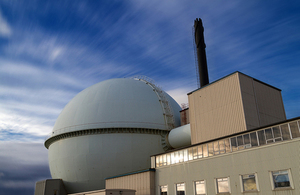 The design objective was to keep it as simple as possible, whilst still allowing access to the equipment for maintenance and routine readings and without any disruption to personnel and equipment accessing the sphere.
The protective cage is made from steel and steel mesh and is approximately 3.5m long and 2.5m high. The cage design was done jointly by DSRL and JGC, with the equipment manufactured and tested off-site and successfully installed last November by JGC.
This work is crucial for the site's closure programme, as one of the biggest risks on the Risk Register is the loss of the DFR reactor gas blanket, potentially increasing the risk of fire, which would seriously impact on the programme.
One of the most vulnerable sections has now been protected, allowing decommissioning of the former fast reactor to progress safely and to programme.
Published 15 January 2014