DFR commissions new plant
DFR opens a new plant which will remove the elevated mercury during the Nak destruction process.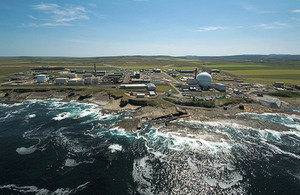 Safe destruction of the highly hazardous liquid metal left over from the UK's first fast reactor experiment is a crucial part of the site decommissioning programme.
DFR was the first fast reactor in the world to provide electricity to a national grid and work to dismantle the fifty year old plant is well underway.
The mercury concentrations in the Nak destruction process are closely monitored and managed to ensure the site complies with environmental regulations.
A new plant was designed in house to remove the elevated mercury concentrations prior to discharge to the sea.
This was trialled and tested by DSRL to ensure limits were met in line with regulatory guidelines.
The new plant was recently installed during a planned outage to minimise disruption.
Results have already demonstrated that this is an effective process to minimise mercury release to the marine environment.
Published 29 August 2012