DFID's Scotland office celebrates 30 years
Department for International Development's second headquarters in Scotland is celebrating 30 years today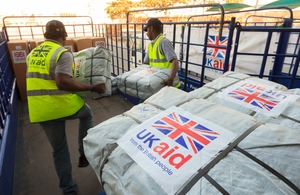 Andrew Mitchell and Michael Moore, Secretaries of State for International
Development and Scotland, are paying a joint visit to East Kilbride to
celebrate thirty years of fighting global poverty at the Department for
International Development's headquarters in Scotland.
The East Kilbride headquarters employs 490 staff and is the backbone of
DFID's work, leading the Coalition Government's work to transform Britain's
aid programmes.
Staff focus on key reform priorities, such as making sure
that Britain's overseas aid is as transparent, efficient and effective as
possible.
DFID is now in the process of widening the scope and role of the
headquarters by moving key functions, such as the Overseas Territories
Department, up to Scotland. Up to 70 posts are in the process of relocating
from London or overseas to East Kilbride by December 2011.
"I'm delighted to be visiting Abercrombie House on its thirtieth birthday to
celebrate all the hard work of DFID staff to support the British Government's
fight against poverty, from increasing transparency, to driving results, to
developing new affordable malaria drugs," said Andrew Mitchell.
"Our East Kilbride headquarters are making sure we get 100p of value from
every pound of aid that we spend. The UK would not be a development
superpower without these teams continuing to deliver real value for money for
the poorest."
East Kilbride's aid experts also evaluate and research aid programmes,
ensuring that Britain's aid continues to be focused on the areas that need it
most. This allows Britain to design aid projects that are based on evidence
and the results that they achieve.
In addition, groundbreaking research overseen by staff in East Kilbride has
led to the creation of new and better treatments for killer diseases, saving the
lives of some of the poorest and most vulnerable people across the globe.
Published 24 November 2011