World news story
DFID Uganda holds open meeting with local suppliers
Forum seeks to interest potential suppliers in working with DFID Uganda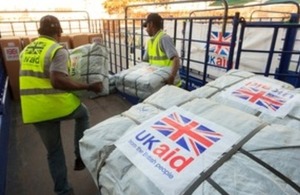 On 19 March 2015, DFID Uganda hosted over 200 delegates at a suppliers' forum at the Protea Hotel, Kampala. The objective of the forum was to reach out to potential suppliers to inform them of the full range of opportunities to work with DFID, as well as to renew and enhance DFID's relationship with existing suppliers.
The forum was opened by Danny Graymore, the Head of DFID Uganda, with an introduction to DFID Uganda and its priority areas. In his opening remarks, Danny Graymore emphasised DFID Uganda's interest in working with more Ugandan suppliers.
This was followed by a detailed presentation (PDF, 1.45MB, 57 pages) , which was partly based on questions sent in by suppliers in advance of the forum. This included information about the sectors of particular focus for DFID Uganda, as well as the current business opportunities available to Ugandan suppliers. Delegates were also given a briefing about the processes associated with the DFID procurement process.
The forum was facilitated by Paul Gaffney and Patrick Hynes from the Procurement and Commercial Department of DFID UK and Lydia Babinaga, Commercial Adviser, DFID Uganda.
Please contact DFID Uganda for further details and visit the DFID website for up to date information on all funding opportunities available across DFID.
Published 29 March 2015